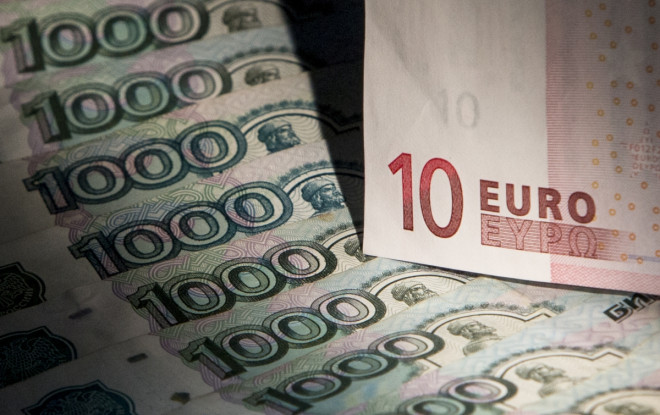 Russia's currency has plummeted to all-time low levels against the US dollar and euro, after the world slammed President Vladimir Putin's decision for a military invention in Ukraine.
The rouble fell 2.5% against the dollar to 36.44 and 1.5% against the euro to 50.21.
Earlier, Russia's central bank raised its key lending rate by 1.5 percentage points to 7%, in a bid to control the slide in the currency.
"The decision is directed at preventing risks to inflation and financial stability associated with the increased level of volatility in the financial markets," the central bank said in a statement.
Despite the hike in interest rates, the currency continued its slide.
The weakening rouble and the violence in Ukraine pulled down Russian share prices, as investors in Russian stocks have started selling off their holdings amid fears of an escalating military confrontation in Ukraine. Stocks on Moscow's MICEX main stock index fell nearly 10% earlier.
"This decision [to increase rates] is not likely to stop RUB (rouble) depreciation, although it might help to make it less profitable," UniCredit Research said in a note.
"At this stage, our growth forecast of 2% for Russia this year is too optimistic. Inflation is also likely to remain above target, bringing into question whether this rate hike will ultimately prove temporary.
"Increased Ukraine-Russia tensions are likely to increasingly weigh on other Central and Eastern European currencies such as the Polish zloty and the Hungarian forint," Danske Bank said in a research note.
Political Crisis
Ukraine, a former Soviet state, put its forces on combat readiness after Putin received Russian Parliament's approval to deploy troops into Crimea.
US President Barack Obama warned Russia not to breach international laws by sending troops and urged to withdraw them. In addition, the US threatened to impose sanctions, including severing trade and freezing assets. Secretary of State John Kerry is travelling to Ukraine today to offer support to the country.
Canada has recalled its ambassador in Moscow for consultations and Prime Minister Stephen Harper suspended Canada's preparations for a G8 summit in the Russian resort of Sochi in June. Other members of the group also stopped preparations for the summit.
European leaders also joined the diplomatic chorus of censure against Russia, with UK Prime Minister David Cameron and German Chancellor Angela Merkel calling for restraint.
Furthermore, the UN Security Council held its second emergency meeting in 24 hours over the Ukraine crisis on March 1, with UN Secretary General Ban Ki-moon calling for "an immediate restoration of calm and direct dialogue".