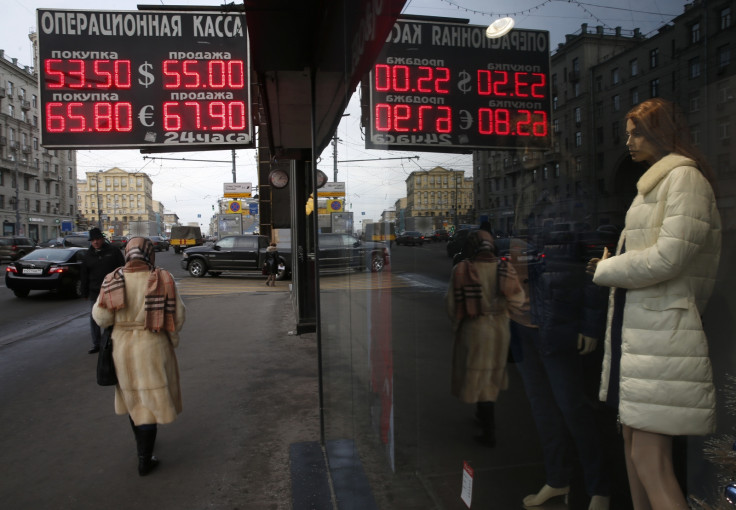 The Russian rouble's extraordinary slide has continued, passing through the 80 mark against the dollar and 100 roubles per euro, as IBTimes UK went to press.
It means the beleaguered currency has lost 20% of its value since the Russian central bank increased interest rates to 17% overnight. Markets rallied immediately upon the hike, but the rot that set in shortly after marks the most dramatic drop in the currency's history.
The rouble has now lost more than 50% of its value against the dollar this year, despite the Kremlin spending some $80bn on propping it up.
Analysts are blaming the Bank of Russia for not acting decisively enough. Last week, it increased its interest rate by 1% to 10.5%, which led to a massive drop in the currency's value.
In a note that was released in the midst of the rouble's daily tumble, Tim Ash of Standard Bank wrote: "The CBR action is failing - ruble weakening again as oil prices weaken again. The message is 'we have a problem Houston, or rather Baikonur'."
Some reports claim that street traders are refusing to conduct rouble transactions.
A large part of the rouble's slide can be attributed to the western sanctions, in response to Russia's role in the East Ukraine crisis. But the most obvious current correlation to be drawn is with the slide in oil prices.
Today, Brent crude prices dropped below $60 per barrel for the first time since July 2009. Given that Russia is reliant on oil sales for 70% of its exports, the parallels are clear.
Companies investing in Russia have seen their stocks plummet. Shares in the Austrian bank Raiffeisen – which is a big corporate lender in Russia – fell to an all-time low of €11.7 today. Experts are warning that worse lies ahead – but also, surprisingly, that it may present some opportunities.
"The rapid depreciation of the Russian rouble will be a cause for panic amongst European businesses with operations in Russia. Such concern is understandable; their profits are likely to be hit by rising prices within Russia and it is becoming increasingly difficult to move money out of the country," said Philippe Gelis, CEO of foreign currency trading platform Kantox.
He continued: "The rouble may well experience a further drop, before stabilising. Nonetheless, European companies needn't rush to remove all operations from Russia. Despite the upheaval, Russia continues to represent a lucrative opportunity for European companies, with its vast population of 140 million people and interest in European products.
"The European companies that are likely to prosper in Russia are those that establish long-term strategies to limit damage, rather than making knee-jerk responses to market developments in panic."