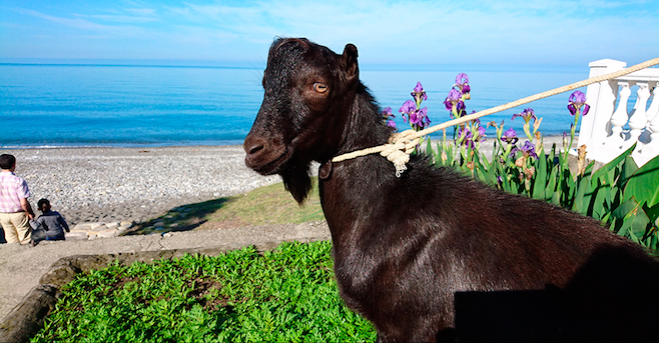 A Russian safari park famous for stirring media attention has done it again. This time, it has named a newly-acquired black-haired goat 'Obama' after US President Barack Obama.
In a cheekily worded press release, the park detailed the goat's medical history and origins in the Black Sea resort town of Sochi. The park's Director Dmitry Mezentsev said: "We needed to ensure that 'Obama' carried no infection and that 'Obama' does not have worms."
The press release came together with photographs and a video of the goat with a caption: "Obama on a leash on the shores of the Black Sea. Moscow Times noted that the word 'goat' is considered an insult when used to refer to people.
At least 'Obama' will be in good company. The park already has a female goat named Merkel, after German Chancellor Angela Merkel.
Moscow Times said that the Primorye Safari Park shot to worldwide fame when in 2015, an Amur tiger developed a friendship with a goat that was supposed to be its dinner. The two were filmed walking around the park together.
The newspaper said that the naming of the 'Obama' goat came a week after a company in Russia's Tatarstan stopped producing chocolate flavoured 'Little Obama' ice-cream amid accusations of racism.
American newspapers took a dim view, with New York Post saying that a Russian zoo "took an incredibly offensive jab at the Leader of the Free World, naming its new black goat 'Obama'. Mezentsev had told NBC News that the park had tried to take the goat to visit Russian President Vladimir Putin.
But Putin's security men had allegedly refused because the Russian president "holds no meetings with goats," Mezentsev told NBC News. The news organisation said: "Russians insult Barack Obama by naming black goat after him." It said the word 'goat' in Russian is an insult used for obtuse, obstinate and headstrong people.
The park located at Primorye, the southernmost province in the Russian Far East, is home to the endangered species - the Siberian Tiger, Amur Leopard, White-naped Crane, Hooded Crane and Black-faced Spoonbill.