Russian and Syrian forces suspend air strikes on Aleppo ahead of Thursday's humanitarian pause
Russian Defence Minister announced break in air strikes on Aleppo ahead of humanitarian pause on 20 October.
Russian and Syrian air strikes on Aleppo have stopped ahead of a "humanitarian pause" planned for 20 October, Russian Defense Minister Sergey Shoygu announced on Tuesday.
"Today the airstrikes of Russia's Aerospace Forces and Syria's Air Force stop in the Aleppo area from 10am (7am GMT)" the minister said.
Russia is planning an 8-hour ceasefire for 20 October, intended to allow civilians and al-Nusra Front fighters to evacuate the eastern part of Aleppo via six corridors.
Shoygu said he hoped the ceasefire would help the work of a group of international military experts due to meet in Geneva on Wednesday – to provide clarity over the different warring factions in Aleppo.
The Syrian Observatory for Human Rights monitoring group said Russian warplanes had launched heavy raids on Aleppo between midnight and early on Tuesday morning, which killed at least five people, and injured several others.
The UN said they welcomed the announcement, but doubted eight hours would be enough time to allow aid deliveries, or the evacuation of civilians.
Earlier this month, the UN special envoy for Syria, Staffan de Mistura, warned that eastern Aleppo may be destroyed by Christmas if the fighting did not stop. The US State Department has also commented the Russian offer was "a bit too little, too late".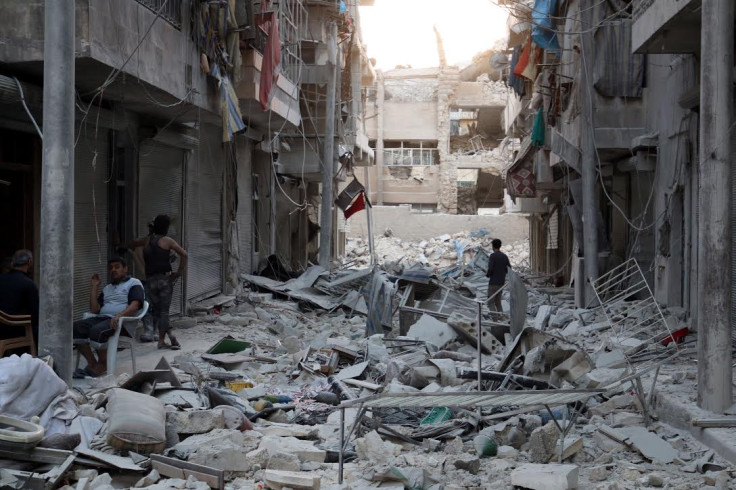 The latest round of talks between the US, Russia and regional powers including Saudi Arabia, Qatar, Turkey, Iran, Egypt, Iraq and Jordan broke down in October 15 after the parties failed once again to agree on a common strategy to end the conflict, now in its sixth year.
US Secretary of State John Kerry told the press afterwards there was consensus of "broad agreement" on some issues, particularly a "desired outcome on ending conflict."
A seven-day-long ceasefire broke down in Syria last month after Russian warplanes bombed an aid convoy destined for Aleppo from Turkey. The Kremlin claimed the convoy was targeted and set on fire by rebels.
© Copyright IBTimes 2023. All rights reserved.