Western powers are threatening Russia and Syria with economic sanctions if the bombing of Aleppo continues. Several nations have been meeting for talks in Switzerland aimed at finding a peaceful solution to the Syrian conflict but with little success.
In a press conference in London today (16 October), US Secretary of State John Kerry called the situation in Aleppo "the largest of humanitarian disasters". Meanwhile, UK Foreign Secretary Boris Johnson said that "crimes against humanity" were occurring on a daily basis in the besieged Syrian city.
According to the BBC, Kerry said Russia must understand that "this war cannot end without a political solution". Johnson urged the Russian government to "do the right thing by humanity and the people of Syria" by joining a ceasefire.
"It needs a ceasefire and it means getting back to the negotiating table in Geneva," Johnson said. "These things will eventually come to bite the perpetrators of these crimes and they should think about it now."
Johnson noted that additional sanctions against Syrian President Bashar al-Assad's regime and his supporters were being considered. The two leaders did not rule out military action in the Syrian civil war but noted that Western countries are not keen on it.
"I think the most powerful weapon we have at the moment is our ability to make President Putin and the Russians feel the consequences of what they are doing," Johnson said following the meeting, according to The Wall Street Journal.
He added: "They're starting to feel the pressure and it is vital that we keep that pressure up, and there are a lot of measures that we're proposing to do with extra sanctions on the Syrian regime and their supporters, measures to bring those responsible for war crimes before the International Criminal Court."
Johnson's US counterpart noted that his country was considering sanctions and that President Barack Obama wanted to continue negotiating. Kerry said: "I haven't seen a bit appetite in Europe for people to go to war. I don't see the parliaments of European countries ready to declare war. I don't see a lot of countries deciding that's the better solution here."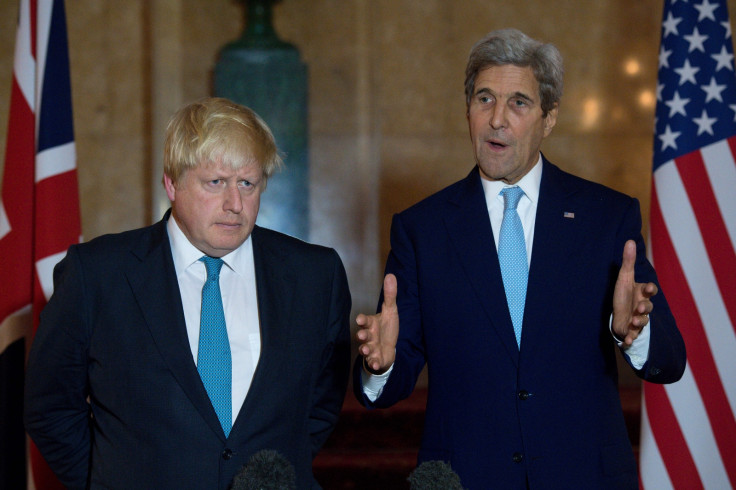 According to the Wall Street Journal, US officials have signalled they are considering arming rebels with more lethal weapons, sanctions and limited military strikes on positions of the regime. However, the White House is apprehensive of increasing the US military role in Syrian and the strikes are unlikely.
The US-Russia ceasefire in Syria broke down last month after just a couple of days. Since its collapse, Syrian forces — with the support of Russia — have relentlessly bombed Aleppo, which the US has called a war crime.
The BBC reported aid organisations have called for a 72-hour ceasefire to allow urgently needed supplies in and civilians out of the besieged eastern rebel-held part of the city.
The US met with Russia, Saudi Arabia, Iran and Turkey on Saturday (15 October) in Lausanne, Switzerland for negotiations. Despite five hours of negotiations, no agreement was reached on Aleppo or aid for Syria's besieged towns.