Russian Warship Escorted Away from English Channel by HMS Destroyer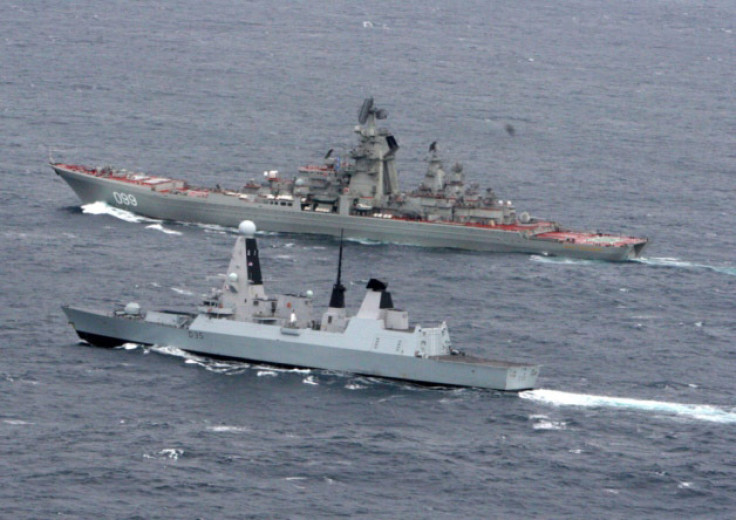 A Russian aircraft carrier and Russia's largest warship have passed through the English Channel.
The Admiral Kuznetsov and the nuclear-powered battle cruiser did not enter UK territorial waters, but their movements were closely tracked by the Royal Navy destroyer HMS Dragon.
The military manoeuvre came on the same day as President Vladimir Putin oversaw nuclear test launches in Russia.
The flotilla of six vessels, which are currently being escorted by the Navy, are believed to have been returning to the Baltic after manoeuvres in the Mediterranean.
A Royal Navy spokesman said: "We can confirm that HMS Dragon was activated as the fleet-ready escort vessel. She met the task group centred around the Admiral Kuznetsov."
Mark Francois, Minister for the Armed Forces, said: "This routine action by HMS Dragon, in her capacity as the Fleet Ready Escort, once again underlines the professionalism and credibility of the Royal Navy in keeping the whole of the UK secure at and from the sea."
Captain Rex Cox, commanding officer of HMS Dragon added: "Following our recent activation HMS Dragon has once more monitored a Russian task group through the UK's areas of interest. This is very much routine business both for HMS Dragon and for the Royal Navy.
"What is different here is that a Russian task group of this size has not passed by our shores in some time. Cutting edge, extremely capable and very versatile, a Type 45 Destroyer, such as HMS Dragon, is the ideal ship for the job."
While it's not unusual for Russian warships to pass through the Channel, the latest movements took place against the backdrop of heightened tensions between the West and Russia over Ukraine.
In April an RAF Typhoon closed in on a Russian surveillance plane after it flew close to UK airspace, before forcing it to turn back.
The aircraft were later identified as Russian Bears. The Ministry of Defence confirmed they remained in international airspace.
© Copyright IBTimes 2023. All rights reserved.