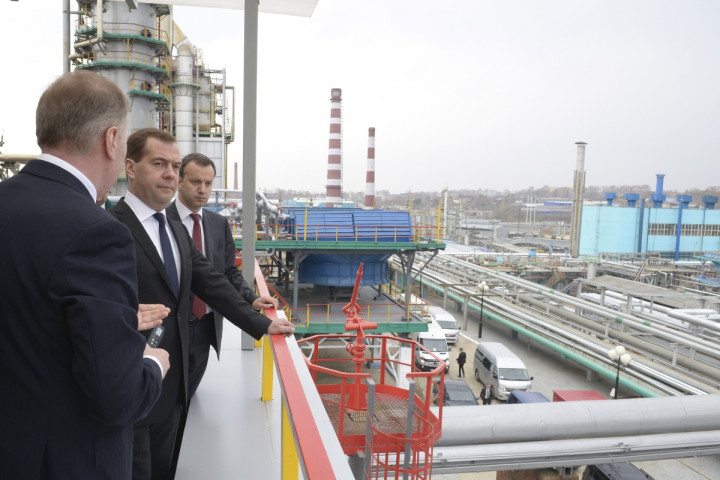 As the European Union (EU) prepares to unleash a new raft of sanctions on Russia's economy, Prime Minister Dmitry Medvedev has warned that his government will respond "asymmetrically", threatening to halt flights over Russia.
Last week, the Financial Times reported that the EU is to ban Russia's state-owned oil companies, including Rosneft, Gazprom Neft and Transneft from raising funds on the European debt markets.
In response, Medvedev told the Russian daily newspaper, Vedomosti: "It is them [the west], who should be asked whether there will be new sanctions. But if there are sanctions, linked with energy, [or] further restrictions on our finance sector, we will have to respond asymmetrically. For instance, [with] restrictions in transport area. We act on the premise of friendly relations with our partners, and this is why the sky above Russia is open for flights. But if we are restricted, we will have to answer."
Criticising the sanctions for being "a stupid idea", Medvedev said: "In politics things are often asymmetrical and there are worse things than economic restrictions, such as possible cracks in the global security system. I hope this isn't what our eastern partners want and that the people calling the shots aren't crazy."
The EU sanctions are expected to be introduced on Tuesday 9 September, despite the fact that a ceasefire for East Ukraine was agreed in trilateral talks in Minsk, Belarus on Friday 5 September. On Sunday 7 September, however, there were unconfirmed reports of fighting in the area.
This morning (September 8), shelling was reported near Donetsk Airport, meaning that the ceasefire is as good as dead.
Speaking at the Nato Summit in Newport, Wales, later that day, US President Barack Obama said that "the US and Europe are finalising measures to deepen and broaden our sanctions across Russia's banking, energy and defence sectors".
The Wall Street Journal has reported that in addition to the oil giants, state-controlled banks including Sberbank and VTB would have their sanctions extended, meaning they will no longer be able to raise funds for longer than 30 days on the EU markets. Current sanctions have set a limit of 90 days.
Military companies and companies providing services to the Russian armed forces are also to be sanctioned, including the gun manufacturer JSC Kalashnikov.
When the ceasefire was intact, the Ukrainian Prime Minister Arseniy Yatsenyuk had warned the west to hold its resolve and to not sway on sanctions placed on Russia.
"What constitutes a major threat? A situation where there is a peace plan, no shooting, everything is calm, and the world goes back to 'business as usual', in other words everything is the way it usually is, and everyone gradually forgets that there was Crimea, there was Ukraine, just like they forget about other conflicts," he said in an interview with the Ukrainian 1+1 TV channel.