Rwanda: President Kagame will decide on third term after national referendum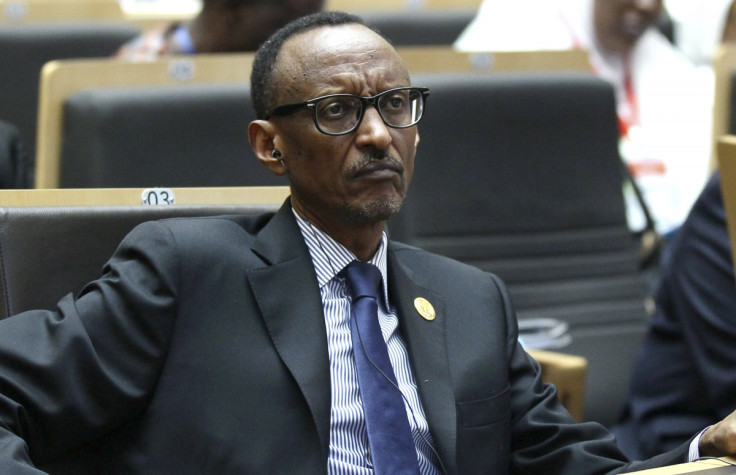 Rwandan President Paul Kagame will decide whether he will run in the 2017 election after a referendum on a possible amendment of term limits. The referendum, for which a date has yet to be set, follows a petition believed to have been signed by some 3.7 million Rwandans demanding parliament to allow Kagame to run for a third term.
"Whatever you want from me will be based on the decision of the referendum and thus my answer will come after the referendum," Kagame told senior officials of the ruling party Rwanda Patriotic Front (RPF) on 6 December, Reuters reported.
Kagame also lambasted countries – including the US, Rwanda's biggest donor – for criticising the third-term bid. He said: "We can be good friends, we can agree to disagree but there is a line when it comes to the interest of Rwandans. Our actions do not correspond to the wishes of other nations."
In October, petitioners called for the parliament to amend article 101 that says the Rwandan president can only serve for two seven-year-long terms. The parliament backed the proposition while the government launched a national consultation on the third-term bid.
The government then passed a constitutional amendment that reduces presidential terms from seven to five years. The amendment maintains the two-term limit but makes an exception for Kagame, who can potentially run in 2017. Voters will decide whether to approve or reject the proposed changes during the referendum which, according to some, will be held by the end of the month.
If the changes are approved, Kagame could be re-elected in the next election and could stay in power for two more five-year terms until 2034.
Paul Kagame's political career
Kagame became the leader of the Rwanda Patriotic Front (RPF) armed wing, the Rwandan Patriotic Army (RPA), as the country had descended into a civil war which then sparked a genocide in which at least 800,000 people – mainly Tutsi and moderate Hutu – were killed in three months.
In the aftermath of the genocide, Kagame served as vice president and minister of defence until 2000, when he became president after being elected by government ministers and the national assembly.
The RPF became a political party while its armed wing was renamed the Rwandan Patriotic Army (now the Rwandan Defence Forces).
In 2003, Rwanda adopted a new constitution replacing a transitional one, and Kagame was re-elected as president. He won the election again in 2010.
Supporters of the constitutional change argue Kagame should remain in power as he has been able to restore the country's crippled economy and lift thousands from extreme poverty since the 1994 genocide. The government also argued that as millions of Rwandans called for Kagame's third term, a constitutional change would be the result of the population's will.
An 'orchestrated' petition
Critics argued that some Rwandans were forced to sign the petition. The opposition Democratic Green Party (DGPR) filed a lawsuit demanding Rwanda's Supreme Court to halt any amendement arguing the move is against democracy. The party also pointed out that article 193 concerning amendments of the constitution does not allow the number of terms to be changed, but only their lengths.
The court backed the parliament's proposal to amend the constitution, however. DGPR's President Frank Habineza told IBTimes UK the party will start a no-change campaign.
Phil Clark, reader in international politics at Soas University, told IBTimes UK that although the petition was "heavily orchestrated by the government", Rwandans are now experiencing social and economic stability. For these reasons, they would back a third-term bid.
He said: "The petition was heavily orchestrated by the government. Respondents told a consistent story of local government officials going door to door, cajoling them to sign the petition. Some people signed it six or seven times.
"The general view is that there's little democracy at the national level but, after the genocide in 1994, people never imagined they would live as peacefully with guaranteed healthcare, educational and economic opportunities as they do today."
According to Clark, Rwandans will not protest should Kagame announce he will run for a third term, as happened in neighbouring Burundi, where hundreds were killed after Pierre Nkurunziza announced he would run in 2016 presidential election, which he later won.
"Especially in rural areas, many people equate changes of power historically with outbreaks of violence," he said. "The 1994 genocide in particular is still fresh in many people's minds. Furthermore, people can point to tangible benefits under Kagame, especially in terms of healthcare and education, and they don't see an alternative president who could guarantee these things."
Kagame's government has been also accused of curbing freedom of speech and persecuting political opponents. The governemnt denied the allegations.
In an interview with IBTimes UK, RPF's vice president Christophe Bazivamo denied people were forced to sign the petition. He said: "I think it is not possible to force millions of people to sign a petition. People who have signed were actually happy to do so."
© Copyright IBTimes 2023. All rights reserved.