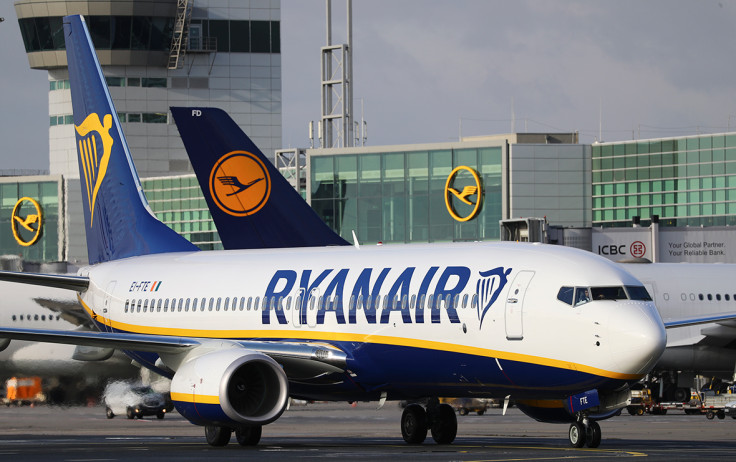 A male passenger became a hero when he put a "drunk" passenger in a chokehold and make a dramatic citizen's arrest on board a Ryanair flight from Girona, Spain.
Video of the incident shows a 22-year-old man speaking loudly as he walks down the aisle. "Get out my face," he says as he tries to push past cabin crew. Moments later a second grey-haired passenger is seen grabbing the man and placing him into a chokehold.
Fellow passengers can be heard cheering as the man moves the first man to the ground while saying, "citizen's arrest". The disruptive passenger is seen slouching over as he is restrained.
The chaotic incident was filmed by 26-year-old Dean Whiteside at Luton Airport following a flight from Girona, Spain.
"He was making a nuisances of himself. Over the course of the flight he was singing loudly with his headphones on," Whiteside said, according to the Mirror.
"It was a late flight, everyone was tired and he was rubbing people up the wrong way," he said. "The stewardess spent about an hour telling him, 'You're going to need to be quiet or I'll call the police'."
The man refused to keep quiet, prompting the flight crew to call police when the flight landed back in the UK at 11pm on 30 June. Other passengers were permitted to leave the plane while the unruly passenger was restrained and police made their way into the aircraft, the Mirror reported.
"We were called to attend Luton Airport arrivals at 11pm on June 30 following reports of a passenger acting aggressively on an inbound flight," a spokesperson for Bedfordshire Police said. "A 22-year-old man from Dagenham was arrested on suspicion of common assault and being drunk on an aircraft."
Ryanair's Kenny Jacobs told The Sun: "The crew of this flight from Girona to London Luton requested police assistance upon arrival after a passenger became disruptive inflight. The aircraft landed normally and the passenger was met by police.
"We will not tolerate unruly or disruptive behaviour at any time and the safety and comfort of our customers, crew and aircraft is our number one priority. This is now a matter for local police," Jacobs continued.
"This is exactly why we are calling for significant changes to prohibit the sale of alcohol at airports."
Bedfordshire Police said the man "was taken into police custody and dealt with by way of simple caution".