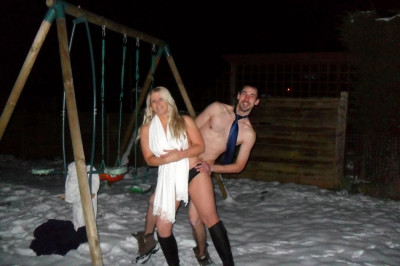 A Facebook craze encouraging users to strip naked for snapshots in the snow has gone viral.
The page, 'Wiltshire let's get naked in the snow' features photos of people posing in their birthday suits with only strategically placed props protecting their modesty.
Leanne Myers, a care worker from Wiltshire, is behind the page that has clocked up 5,500 likes. She said she set it up in an attempt to cheer up workmates fed up with the recent bad weather.
She encouraged friends to bare all after her and her 25-year-old neighbour, Danielle Smith, stripped to their undies to pose for a picture while playing guitar in the snow.
Within days hundreds of people have taken up the challenge and the social networking site was flooded with snaps.
"It is totally amazing, I really had no idea it would take off like this," she told the Daily Mirror.
"People have embraced it and a lot of the pictures are of friends of friends but now there's some coming in from people I don't know."
Myers, 40, has had offers of images from other parts of the world.
"I've had interest from Abu Dhabi and America and people messaging me saying 'we're not in Wiltshire, can we send in a pic?'
"They are welcome from anywhere, as long as they are kept tasteful."
Myers plans to use the site as a fundraiser for local charities.
"It would be great to use this for some good, especially as it's a bit of fun," she said.
IBTimes UK has a look at just a few of the photos uploaded.
READ: UK Weather: Met Office Issues Warning for Widespread Flooding