Saara Aalto, 5 After Midnight and Matt Terry make X Factor final as Emily Middlemas is sent home
Terry won his place in the final after a hard-fought sing-off with the 17-year-old Scottish singer.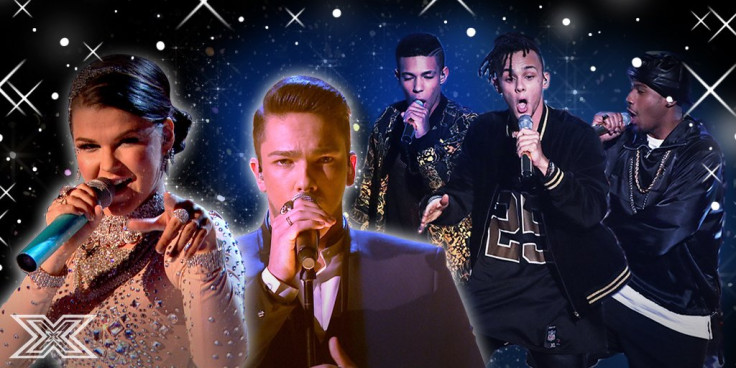 Saara Aalto, 5 After Midnight and Matt Terry are to battle it out in the X Factor final next week.
Finnish snow-queen Saara sailed through after her show-stopping performances on Saturday night's Christmas-themed semi-final.
Just as well, as there would almost certainly have been a riot if she hadn't. Fans were enraptured by her spiralling vocals and took to Twitter in their droves to declare her the most worthy winner of the X Factor crown.
5 After Midnight have been frontrunners for a place in the final since they broke into a perfectly choreographed dance routine at their first audition.
Wowing audiences week after week with their high energy performances and infectious sound, the all-dancing, all-singing trio have won support from the likes of Craig David and McFly, who have predicted a career in music for the boys no matter what the outcome of the final.
The audience have been somewhat divided over Matt Terry, who can certainly hit the high notes but left Simon cold with his pedestrian version of Silent Night.
And while Emily Middlemas's rendition of Radiohead's Creep for the Halloween show was mesmerising, she has since proven to be something of a one-trick pony. Seemingly intent on driving Louis Walsh insane, she refuses to dance while always performing in the same sombre style.
"You do the same thing every week," he complained in the semi-final. However, Emily failed to heed his advice as she found herself facing Matt in the sing-off.
When it mattered, Matt pulled it out of the bag, performing with all the determination of a boxer fighting his last fight with an emotionally-charged rendition of Christina Aguliera's Hurt. A barefoot Emily tackled Wings by Birdy - after which it was all up to the judges.
Louis threw a spanner in the works, choosing to send Matt home, and Sharon was left with the deciding vote. Thankfully, Mrs O made the right choice, choosing to save Nicole's act, Matt.
While Emily had us all thinking she was the harbinger of doom with her dark performances, in fact she was the picture of sweetness as she bowed out .
"I'm so proud of myself for getting to the semi-final. This year has been amazing and I'm just so glad to be part of it," she said.
The show also featured star guests Zara Larsson and the enigmatic Lady Gaga. Showing the young hopefuls exactly what makes a star, the Oscar-nominated artist gave a powerful rendition of her new track, Million Reasons, as she balanced precariously on an elevated platform.
While Saara Alto, 5 After Midnight and Matt Terry dream of achieving the heights that Gaga has scaled, win or lose they have been presented with an opportunity to launch potentially lucrative music careers, albeit through a TV Talent show.
As for Emily, she will just have to find consolation in the arms of boyfriend and fellow X Factor contestant Ryan Lawrie, who at least knows exactly how she's feeling. And now she really has got something to cry about.
Watch The X Factor Final on ITV on Saturday 10 December.
© Copyright IBTimes 2023. All rights reserved.