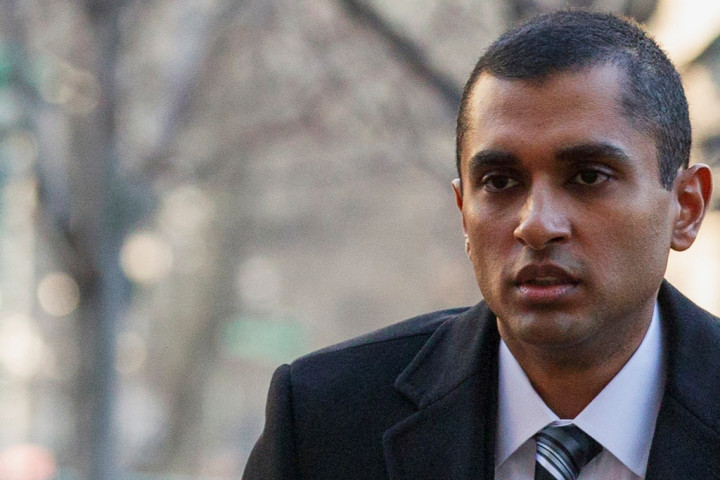 Mathew Martoma, former portfolio manager at billionaire Steven Cohen's SAC Capital Advisors, was sentenced to nine years in prison for his involvement in one of the biggest insider trading schemes on record in the US.
Mortoma was convicted on all three of the conspiracy fraud charges that he faced.
SAC obtained $275m (£166m, €209m) from illegal trading in pharmaceutical stocks, after Martoma made use of the tips he received about a clinical trial for an Alzheimer's drug. SAC began selling its $700m position in Elan and Wyeth in July 2008 before the data was made public later that month.
The "enormous" gains prompted prosecutors to label the case the most lucrative insider trading scheme in American history.
"I cannot and will not ignore that the gain is hundreds of millions of dollars more than ever seen in an insider trading prosecution," US District Judge Paul Gardephe in New York said in his ruling.
Martoma's lawyer, Richard Strassberg, appealed for leniency, asking the court to take into account the "fragile family circumstances". Gardephe denied the appeal and also ordered to Martoma to forfeit $9.3m, including his Boca Raton, Florida, home.
Lou Colasuonno, a spokesman for Martoma, said the ex-trader and his family were "devastated by the outcome," adding that he is planning an appeal.
Michael Steinberg, who was a portfolio manager at SAC, was convicted in December 2013. He was on trial for five conspiracy and securities fraud counts due his role in a different insider trading scheme. In total, eight SAC employees have been convicted as part of a long-running insider trading investigation into the hedge fund
The Securities and Exchange Commission is reportedly seeking to blacklist Cohen from the financial services industry for failing to keep watch on the employees.
The SAC founder, who has not been personally charged with any crime, is ranked among the 50 richest Americans and is worth just under $9bn, according to Forbes magazine.
In November 2013, his fund agreed to plead guilty to insider trading allegations and pay $1.8bn to settle the charges. SAC recently changed its name to Point72 Asset Management.