A Polish sailor and his cat have been found in a rudderless lifeboat in the Indian Ocean where he claims they had been drifting for seven months in shark and pirate-infested waters.
Zbigniew Reket, 54, told rescuers who brought him ashore the French island of Réunion that he had survived on half a packet of dried soup a day supplemented by any fish he managed to catch, which he shared with Samira, his cat.
Doctors said he was undernourished but otherwise healthy when he was rescued on Christmas Day (25 December) after being spotted by a sailing boat who alerted the coastguard on Réunion.
Rescuers said they were astonished at the state of his vessel, which Reket claims had been left to drift in ocean currents after its makeshift mast snapped, the motor broke down and its helm stopped working.
Day Vivian Mailly, head of the Sainte-Marie rescue station in Réunion, said the boat was more like a "floating shelter" than a sailing yacht.
Alain Djeutang, the Seafarers' Chaplain in Réunion, added: "I have never seen anything like it in all my life. His mast was completely broken and his rudder couldn't control anything."
Reket said after being rescued he was "happy to have my feet on dry land" and that he felt better "because yesterday I ate bread for the first time".
Investigators are now trying to piece together how he came to be drifting in the Indian Ocean for such a long time.
Reket told reporters on Réunion, an island east of Madagascar, that his adventure on the high seas began in 2014 when he travelled to the Indian coastal town of Alang from the United States, where he had lived for 10 years.
There he says he purchased his lifeboat-type vessel – similar to crafts seen on the side of cruise ships – and intended to convert the boat to a pleasure yacht to sail back to Los Angeles.
But on learning he would be denied entry due to his green card expiring, Reket instead decided to sail to the Indonesian capital of Jakarta.
He said the first weeks of his journey were disastrous after his makeshift mast broke, leaving him drifting west before he eventually ran ashore on the island of Comoros.
"I stayed there for two and a half years, with my boat broken," he told the Réunion Island Journal, adding that he received little help from the Polish-based Kenyan embassy. "They did not want to repatriate me, they gave me 150 euros and that's all."
After adopting his cat Samira, Reket says he left Comoros seven months ago and tried to sail to Durban, South Africa where he hoped to earn money to better repair his boat.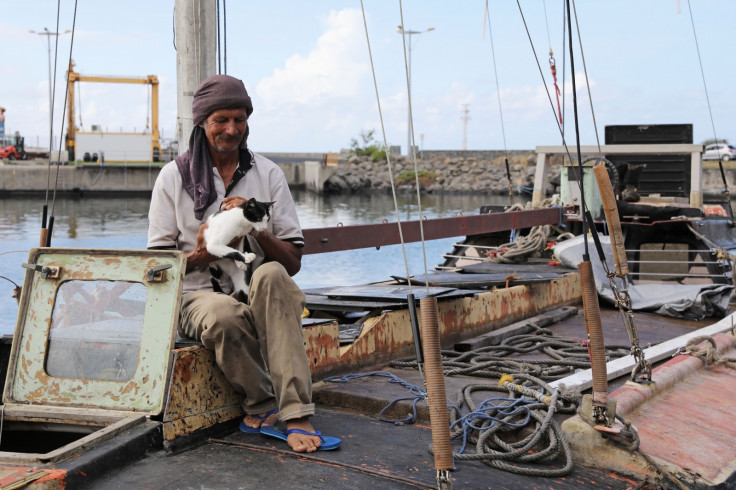 But the sailor said he ran into trouble again when his engine broke down, beginning seven months of drifting in the Indian Ocean with only Samira for company.
"I drifted to the Somali coast, then the Maldives and again Indonesia," he said. "And then Mauritius, and finally Réunion. Several times, I saw the land without being able to get to it. I saw other boats but my radio was dead."
Reket said he survived by rationing out the one-month supply of Chinese soup he had brought along, which he supplemented by catching fish.
He was eventually rescued after another vessel spotted his makeshift yacht five miles off the coast of Réunion and contacted coastguards.
Reket, who is currently being looked after by charity workers, was given food and clean clothes. He says he now seeks "a normal life" and may stay on the island and find work.
While some have questioned similar stories of survival, Mailly said Reket's story was plausible.
French officials have also confirmed some of the details given by the sailor, including his residence in the US and on the Comoros.