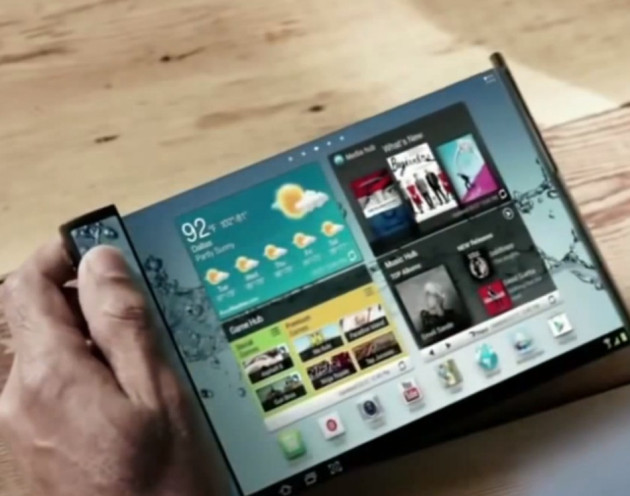 Samsung's curved display and folding screen technology has hogged the limelight for quite some time. News of 4K resolution displays with folding screens for smartphones is gaining momentum as the South Korean smartphone giant sheds light on its upcoming mobile display technology that aims to bring ultra-high resolution screens to the smartphone world as early as 2014 or 2015.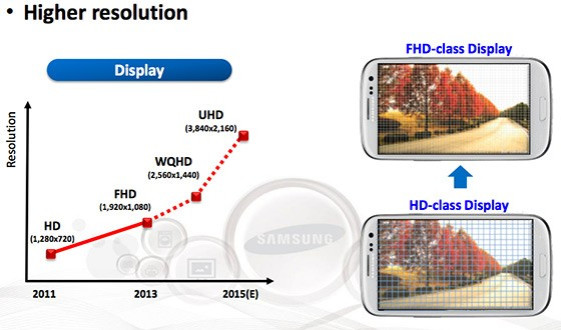 Samsung's roadmap suggests that the company is preparing its display technology to double the pixel count on smartphone and tablet screens by 2015.
The proposed 4K resolution displays with a massive pixel count of 3,480 x 2,160 pixels are normally found on Ultra HD TV sets, which is four times the pixel count of full HD (1,920 x 1,080) displays.
Apple's Retina display is capable of supporting a maximum resolution of 2048 x 1,536 pixels on an iPad 4, while Samsung is already on the verge of developing 560ppi AMOLED panels for smartphones that are expected to arrive any time in 2014.
Here is what The Verge says on Samsung's futuristic 4K display technology for smartphones:
"The display category was highlighted by the promise of 560ppi AMOLED panels for phones. Combine that with the 1440p resolution and you get a 5.2-inch handset - the same dimensions as on LG's 1080p G2, but with 78 percent more pixels. And if that's not enough, we're told to look forward to 4K resolutions - also known as Ultra HD or 3840 x 2160 - in 2015."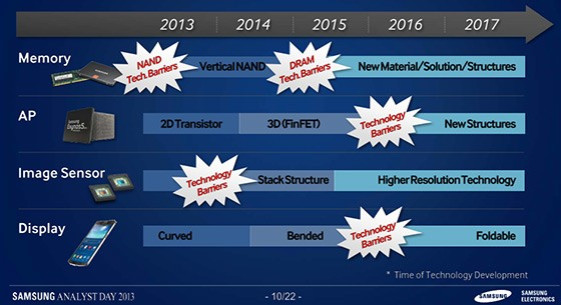 According to Samsung's Analyst Day slideshow, the proposed 4K resolution displays will effectively offer 78% more pixels on a regular 5in smartphone at a massive 1,440p resolution. In addition, the company's 2015 roadmap promises foldable mobile displays for smartphones with double the pixel-density by 2015.
Check out Samsung's official promo commercial video depicting the look and features of flexible OLED displays built for future:
Foldable displays have been in the spotlight ever since Samsung unveiled its prototypes at CES 2013 in January. At the time, the flexible display technology failed to take off due to some technical limitations with smartphones.
Curved screen smartphones are already in the spotlight with the launch of Samsung's own Galaxy Round in October and LG's Flex smartphone . With Apple trying to bolster its smartphone profile with new curved battery patents and iPhone prototypes with curved glass, the competition amid the smartphone giants is just getting hotter.
Not to mention, Apple's recent efforts with the iWatch project, which aims to develop a wearable device equipped with a curved screen, has also been in news.