One of Samsung's most popular Galaxy handsets, the Galaxy S3 which debuted in 2012, will not receive the Android 4.4 Kitat upgrade.
Recently, Samsung released the KitKat kernel source code for the Sprint variant of Galaxy S3 bearing model number SPH-L710; the update came with Linux 3.4 kernel.
Following this, Sprint started rolling out Android KitKat update with build number L710VPUCND8 for its Galaxy S3 variant having 2GB RAM. Although Samsung has not confirmed anything, Sprint's update roll-out was a hint that the company might release KitKat for the international version as well.
Recently, an internal Samsung document containing the list of Galaxy smartphones to get the much anticipated Android 4.4 software leaked online.
According to the list, a number of Galaxy devices such as Galaxy Note 2, Note 2 LTE, Galaxy S3 LTE, Galaxy S4 Mini, S4 Mini LTE, Galaxy Note 3 Neo, Galaxy Grand 2, Galaxy Mega 5.8 and Mega 6.3 will get Android 4.4. But the international version of Galaxy S3 is missing from the list.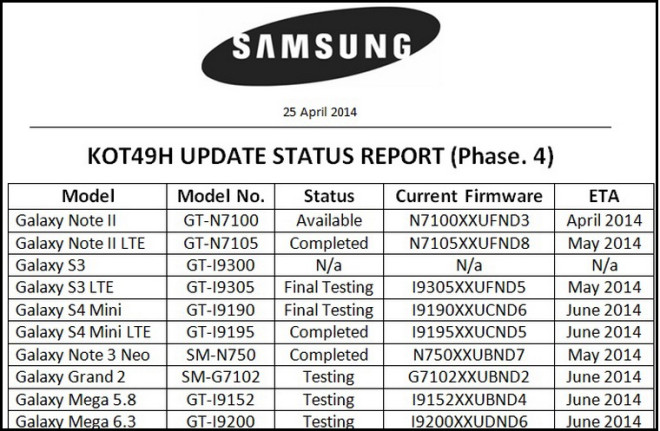 Sammobile reached out to Samsung to get more clarification about the Android 4.4 update for Galaxy S3. Samsung confirmed that the Galaxy S3 and its mini variant with only 1GB RAM are not capable of running KitKat.
In order to facilitate an effective upgrade on the Google platform, various hardware performances such as the memory (RAM, ROM, etc.), multi-tasking capabilities, and display must meet certain technical expectations. The Galaxy S3 and S3 mini 3G versions come equipped with 1GB RAM, which does not allow them to effectively support the platform upgrade. As a result of the Galaxy S3 and S3 mini 3G versions' hardware limitation, they cannot effectively support the platform upgrade while continuing to provide the best consumer experience. Samsung has decided not to roll-out the KitKat upgrade to Galaxy S3 and S3 mini 3G versions, and the KitKat upgrade will be available to the Galaxy S3 LTE version as the device's 2GB RAM is enough to support the platform upgrade," explained Samsung Mobile UK
The Galaxy S3 was shipped with Android 4.0.4 Ice Cream Sandwich and is currently running Android 4.3 Jelly Bean, which seems to be the last update as Samsung will not extend further software support for the device. As for the Galaxy S3 Mini, Samsung will end the support at Android version 4.2.