The Lite version of Samsung Galaxy Note 3, which has been rumoured for quite a long time, will reportedly come as Galaxy Note 3 Neo.
The latest disclosure is by GSMArena, which managed to get a bunch of leaked Samsung's internal product positioning documents.
As the documentations suggests, the upcoming Galaxy Note 3 Neo seems to be a refreshed version of the second generation Galaxy Note, rather than a downgraded version of the current Galaxy Note 3.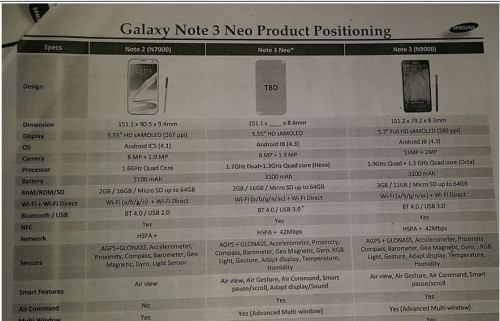 Like the Galaxy Note 2, the Galaxy Note 3 Neo will reportedly feature 5.55in HD Super AMOLED display, eight megapixel rear-camera, 1.9 megapixel front-camera and 3100mAh battery.
The Galaxy Note 3 Neo, according to the documentation, will use a hexa-core processor (with 1.7GHz dual-core + 1.3GHz quad-core), paired with 2GB RAM. There is not much details about the hexa-core processor except the number of cores and clock speed, but it is expected to be powerful than the 1.6GHz Exynos Quad-core processor powering the Galaxy Note 2. It will run Android 4.3 Jelly Bean out of box.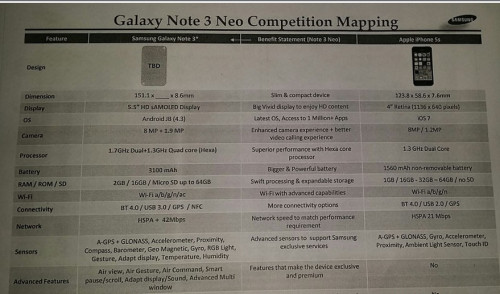 The Note 3 Neo is expected to come in 16GB storage variant with support for micro SD card for additional space up to 64GB. It will offer Bluetooth v4.0 and NFC.
Moreover, the Galaxy Note 3 Neo is expected to feature Samsung's new faux leather back cover from Galaxy Note 3. It will be thinner than the Note 2. The device will also carry Smart features such as Air View, Air Gesture, Air Command, Smart Pause/ scroll, Adapt display/sound, Air Command and Multi View from Galaxy S4 and standard Note 3.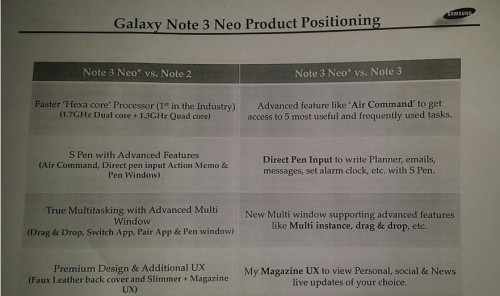 The listing does not provide information about the launch but an announcement at the upcoming 2014 Mobile World Congress event is highly likely, based on the reports in the recent past which claims the Note 3 Neo will feature a 720p display.