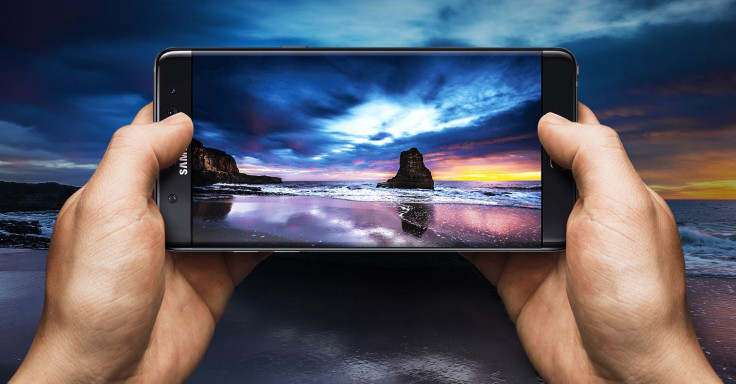 With support for HDR streaming capabilities that make videos look more vivid, and Vulkan API, Samsung's newest Galaxy Note 7 enables a rich entertainment experience. The phablet in different colour variants such as blue coral, gold platinum, silver titanium and black onyx, will start shipping on 19 August through carriers in the US and 2 September in Europe. Before the rollout, IBTimes UK provides details of the entertainment features of Samsung's latest phablet that is compatible with the updated version of the VR headset.
HDR streaming capability
Equipped with Super AMOLED display, the HDR video streaming technology on the Note 7 offers users a cinema-like experience including bright colours and deeper black. Note 7 users can stream HDR video in HDR10 format that offers a colour depth based on a 10-bit signal. This lets users experience the same HDR content and quality on mobile as they can on a TV.
Another noteworthy technology Samsung brings to the Note 7 is Mobile Digital Natural Image Engine (mDNIe) and Super AMOLED screen. Samsung claims the mDNIe chipset is the most advanced image processing engine that ensures dark and bright colours appear as they are in real life. In addition to that, the 5.7in QHD screen exhibits the largest colour range and brightness to offer sharp and clear viewing. The mDNIe chipset further allows the smartphone to seamlessly process streamed HDR content without having any impact on the battery life.
Gaming with Vulkan API
The new Note packs Vulkan, the next-gen graphics API that brings more robust and responsive performance and power efficiency to gaming. The upgraded graphics was introduced in the Galaxy S7 and S7 Edge.
Vulkan is considered to be the first graphics tool to support desktop, console and mobile through a single API. It cuts the CP workload, thereby reducing power consumption. The support of Vulkan would offer Note 7 users the ability to play high-performance and graphic-intensive games. Through the Galaxy Game Pack that is available on Google Play Store, users can access top game titles, avail of an easy redemption process and new user benefits.
VR experience
You can pair your Note with the new Gear VR headset that Samsung announced alongside the Note. The VR headset is now available for pre-order at a suggested retail price of $99.99; shipment starts later this month.
The latest version supports both USB Type-C and micro-USB port connections that come as inbox items. Besides, with its improved lenses and ergonomics, the updated version of the headset lets Note 7 users view 360-degree video and create Gear 360 content more comfortably. Users can then share content on platforms including YouTube 360 and Facebook. The new VR headset is also compatible with other flagship Galaxy models such as S7, S7 Edge, Note 5, S6, S6 Edge and S6 Edge+.
Advanced camera technology
The Note 7 packs an advanced camera with a Dual Pixel image sensor that debuted on the Galaxy S7 and S7 Edge. The technology allows fast shooting, irrespective of the light conditions. This technology featuring a wide aperture and fast autofocus to capture sharp images is utilised in select and high-end DSLR camera models.