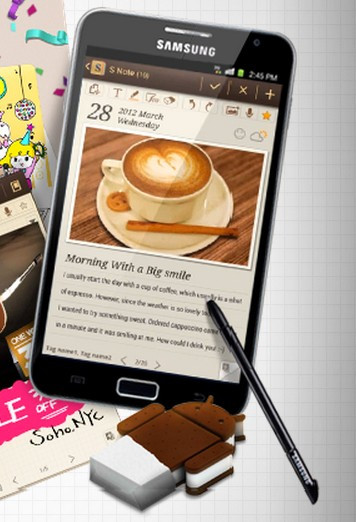 The Korean giant has introduced the incredible smartphone which is simply called Galaxy Note. It bumps up with an impressive large screen of 5.3-inch display which allows users to see more while on the go. The device has turned out to be an excellent one, thanks to S Pen and an extremely faster processor. Users can fully employ its S Pen which lets to sketch, write notes and surf the internet. The advanced S Memo allows to record one's ideas, meaning one can easily collect and store the notes or pictures and maintain them in a separate folder.
Apple has remained tight-lipped about its next-generation iPhone features and release date. It is not certain if the tech giant will come up with numbers in the naming of its product. The naming convention could include the iPhone 5 or New iPhone. Since it introduced the New iPad probably one could expect a New iPhone too. The company has not made any official declaration about its upcoming product. Tech enthusiasts will have to wait to lay their hands on the next-generation iPhone.
Check out the specs comparison of the Samsung Galaxy Note with anticipated ones of iPhone 5:
[1] Display
The gorgeous-looking Galaxy Note flaunts a 5.3-inch Super AMOLED capacitive touchscreen with a resolution of 1280x800 pixels at 285 pixel per inch (ppi). The screen is protected by Corning Gorilla Glass and it integrates TouchWiz 4.0 User Interface (UI).
According to Christianpost, the Korean Times reports, Apple could bring OLED display in its next-generation iPhone. Perhaps, it could replace the LCD display.
[2] Processor
The Galaxy Note is powered by a 1.4 GigaHertz ARM Cortex-A9 Dual-core CPU with Exynos chipset.
Apple's iPhone 5 is rumoured to come with A6 processor. Probably, it could be more powerful than A5 processor.
[3] Camera
Samsung's smartphone boasts of an eight megapixel rear-facing camera with a whopping resolution of 3264x2448 pixels. The sporting features are autofocus, LED flash, action shot, panorama shot and smile shot. It provides a 2-megapixel front-facing camera for video calling and a 1080p video recording.
According to Patently Apple, the tech giant has filed a patent for a 3D camera. It will be applicable to both photography and video. The 3D camera could make its debut in the upcoming iPhone. The killer feature will not only include facial recognition but also facial gesturing recognition.
[4] Storage
The Galaxy Note includes 16GB internal storage a microSD card which is extendable up to 32GB.
In contrast, the iPhone 5 is rumoured to include 16/32/64 GB internal storage. It could lack an external microSD card.
[5] Battery
The Samsung Galaxy Note comprises Li-Ion 2500mAh standard battery.
The iPhone 5 is expected to come with a better battery life when compared to its predecessor with a 1750mAh standard battery.
MUST READ: Xbox 720 Vs PlayStation 4: Battle of Heavyweight Game Consoles [PHOTOS]