The Samsung Galaxy S smartphone range has sold more than 100 million units since it launched in June 2010, with the Galaxy S3 accounting for 40 million sales in just seven months.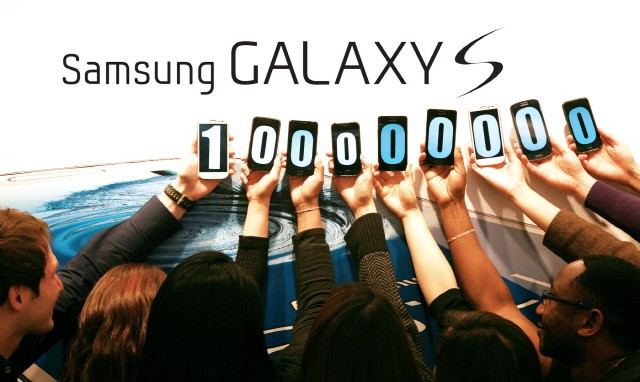 Samsung announced reaching the milestone in a press release on 14 January, revealing that the original Galaxy S achieved ten million sales in its first seven months, a figure the S2 took five months to reach, while the Galaxy S3 sold more than 20 million units in its first 100 days on sale.
The 100 million figure is "channel sales", which are phones sold to retailers, not to customers, so some of the 100 million will be stock in shops waiting to be sold. The Galaxy S2 and S3 have each sold 40 million units, and the original Galaxy S has shifted 20 million units.
For comparison, the iPhone series reached 100 million sales in March 2011, three years and nine months after first launching in the US in June 2007, more than a year longer than it took Samsung.
It is worth remembering that in 2007 the iPhone was only available on select networks, and Samsung's Galaxy S didn't arrive until the smartphone market - and consumer demand for smartphones - had grown for three years.
Korean news wire The Yonhap provided more information, stating that the Galaxy S3 has sold 30 million units in the last five months, after selling ten million units in its first 50 days after being launched in May 2012; currently, Samsung sells 190,000 S3s every day.
2012 was a watershed year for Samsung, and a year which saw the company grow to take more than 31 percent of the global smartphone market in the third quarter - according to IDC figures - up from a little over three percent in late 2009, before the Galaxy range arrived.
According to Apple vice president, Phil Schiller, the company currently has around 20 percent of the smartphone market but "we own 75 percent of the profit" - which is due to the iPhone's higher retail price.
Samsung is widely expected to announce the Galaxy S4 smartphone in the coming months, possibly as soon as Mobile World Congress in late February or, as with the S3 last year, at its own media event around April or May.
Apple 'halves iPhone 5 screen orders'
While sales of the Galaxy range continue to soar, Apple is believed to be reducing production of the LCD screen for its iPhone 5.
According to sources speaking to The Wall Street Journal and Japanese daily Nikkei, Apple has asked Sharp, LG and Japan Display to cut supply of LCD panels down from a planned order of 65 million units for the quarter.
Output at Japan Display's plant in Nomi is expected to temporarily drop by up to 80 percent compared to the last quarter; Sharp's LCD assembly plant will drop production over the next two months by 40 percent, the sources added.
Apple is not expected to announce a new iPhone - possibly called the iPhone 5S - until around October, a year after the last model was launched.