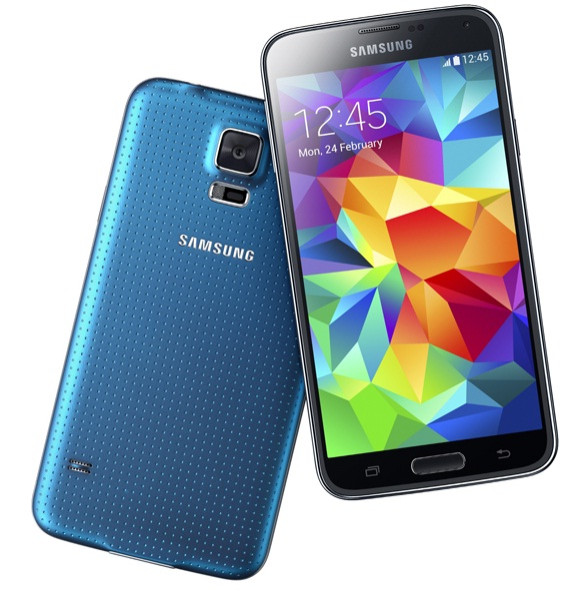 Samsung has now unveiled 10 hidden features of the Samsung Galaxy S5. The handset has been around for a week in markets around the world and has managed to sell faster than its predecessor, the Galaxy S4, according to reports.
It goes without saying that these features have been added into the handset to allow Samsung to differentiate its smartphones from other Android competitors.
You Can Write on it With a Pencil
The touch sensor on the Galaxy S5 is so sensitive that it can even recognise it when you are tapping, swiping or writing on it with a pencil.
Head over to Settings > Display and tick 'Increase touch sensitivity' feature or select 'Touch sensitivity' among the 22 quick menu icons by pulling down the status bar with two fingers.
After this, users will be able to instantly send text messages, send files, and take pictures with your fingers, a gloved hand, and even a pencil.
Tilt for a Customised Playlist
Tilt the Galaxy S5 horizontally (into landscape) while listening to a song via music player, and your Galaxy S5 instantly suggests similar tracks among the songs stored on your phone based on information of the current song, such as its genre, mood, source, etc. So the more songs you have, better the recommendation – instead of a mess and a headache.
Bookmark for Your favorite Apps with 'Toolbox'
'Toolbox' is a small widget that opens and closes like a mini-folder or app-drawer. It's small and round and you can move around just about anywhere on your screen. Place your favorite applications here and access them quickly whenever you need them.
You can either tap the 'Toolbox' icon on the quick panel (swipe down the status bar), or go to Settings and tap 'Toolbox'. A white circle-shaped icon with three dots inside will appear on the screen. Press and hold the icon and drag it to the Edit button, and then you can customise what apps appear on the floating Toolbox menu.
The floating shortcut menu will be shown and can be activated on every screen, making it useful for multi-tasking.
Maintain Your Privacy with Private Mode
The Galaxy S5 features a 'Private Mode' to hide personal documents, pictures, text messages, videos, voicemails, etc from outsiders.
Head over to Settings > Private Mode. After selecting the contents you want to hide, press Menu, and then touch 'Move to private' and a lock key will appear next to the contents, protecting them safely. Private content can be accessed via PIN, password or lock pattern.
'Kids Mode'
With a cute UX design, Kids Mode provides fun and safe content for children. Also, you can allow and restrict access to applications and media content stored on your device by following a few quick steps.
a. Go to the Kids Mode widget at home screen, you can download this app. After downloading, a Kids Mode screen will be created.
b. Set your PIN and
c. enter your kid's profile, and then
d. select the applications that your child is allowed to use.
By default, it provides camera, painting, voice recorder, and video apps. To download various games and learning apps for kids, go to the Parental Control at the bottom right side of your screen, and Menu at the upper left, and then 'Kids Store'.
If you download a new application, a gift box appears on the Kids Mode screen. Tap this box and an app will be created as it opens. On a special day, install apps your child wanted and give them as surprise presents! The mode also lets you decide how long they can use the phone for on a daily basis.
Enable Camera from the Lock Screen
Galaxy S5 now features direct access to the 16-megapixel camera from the Lock Screen.
Head over to Settings > Lock Screen > 'Camera shortcut' and a camera icon will appear at the right bottom of the lock screen.
New Camera Features – Virtual Tour, Shot & More Mode
The 'Virtual Tour' is a feature that allows you to take pictures as if you are giving a tour of the surrounding area to viewers.
After putting the camera in the virtual tour mode, by moving the camera according to the guided arrows that point forward, left, or right, you can take shot after shot of the same background. With the pictures together, you will have a 'moving picture' like a 'gif' image.
The 'Shot and More' mode allows you to edit pictures and apply various effects immediately after taking your shots.
In this mode, you can choose the best photo from several taken in rapid succession, using diverse features such as best photo, best face, drama shot, eraser, and a lot more.
Set 'Priority Senders' in the Messaging App
If you set 'Priority Senders', the contact lists of your priority senders will be displayed on the top of the messaging app as an icon.
ust by tapping this icon, you can send or receive messages right away.
Go to the Messages app, tap '+', and then select Priority Senders to add up to 25 people.
Check Caller Information While You Are still on Phone
On the Settings, tab Call, and select 'Show caller information' check box. Then the callers' recent social network activity (Google+) and the history of your communication with them will be displayed.
Receive Call While Using Other Apps with 'Call Notification Pop-ups'
Don't you hate it when you are in the middle of a game and a call ruins everything? If that's a problem, the Call Notifications Pop-up feature could come in handy.