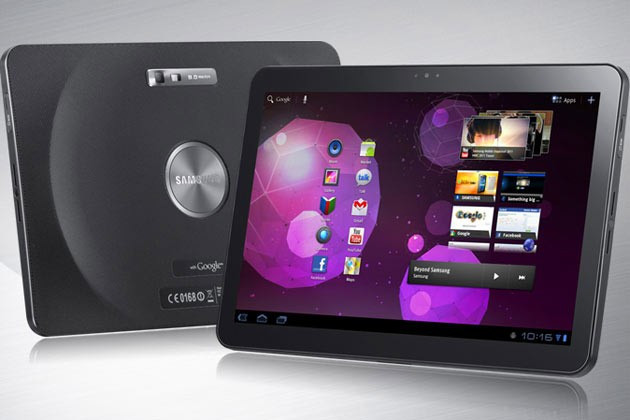 With the release of Samsung's Galaxy Tab 10.1 just around the corner, many analysts have already begun to question whether the tablet will be able to repeat the Galaxy S2 smartphone's success and knock Apple off its pedestal.
The Samsung Galaxy Tab 10.1
The Samsung Galaxy Tab 10.1 is the company's latest entry into the tablet market.
Like its predecessor, it boasts some pretty hefty features. The new Galaxy Tab will come loaded with Google's Honeycomb Android software and boast an impressive 10.1-inch touchscreen 1280×800 display, powered by a robust 1GHz Nvidia Tegra 2 dual-core processor. On top of this, the tablet will have two cameras equipped with LED flash.
The tablet will be available in either a metallic gray or glossy white. Samsung's Galaxy tablet will also, like most other tablets these days, be available in numerous versions.
In the U.S., reports have suggested that the first 16GB model will costs about $530, while the 32GB model will costs about $630. U.S. customers wishing to connect to Verizon's LTE network will be able to choose from three different data plans: $30 per month for 2GB, $50 for 5GB and $80 for 10GB.
Apple iPad 2 Dominance
Despite the Samsung Galaxy Tab 10.1's impressive features, some industry watchers have predicted that it won't manage to break the Apple iPad 2's hold on the market.
Most recently a report from tech consultancy Good Technology said that despite a consistent increase in Google Android's market share, consumers still prefer Apple devices and software.
The report indicated that the number of tablets running Android had declined by 3.1 per cent, meaning that the iPad series of tablets now accounts for about 95 per cent of the world's total tablet activations.
While these figures are most likely not completely accurate, as the data used to formulate them came purely from Good Technology's customer base -- meaning that next to all of it refers to corporate use -- they do demonstrate the scale of Apple's current dominance in the tablet market.
Only last week when it released its quarterly financial statement, Apple revealed that in one quarter alone it had manage to ship 9.25 million iPad tablets. This, compared to the previous Galaxy Tab, where the company considered breaking the one-million mark earlier this year an achievement.
That being said, it isn't all gloom and doom for the tablet. Samsung's popular Galaxy S2 smartphone met with similar skepticism just before it was released. Yet, just last month according to comparison service uSwitch, the Android powered Galaxy S2 beat Apple's iconic iPhone in pure sales for the second time in as many months.