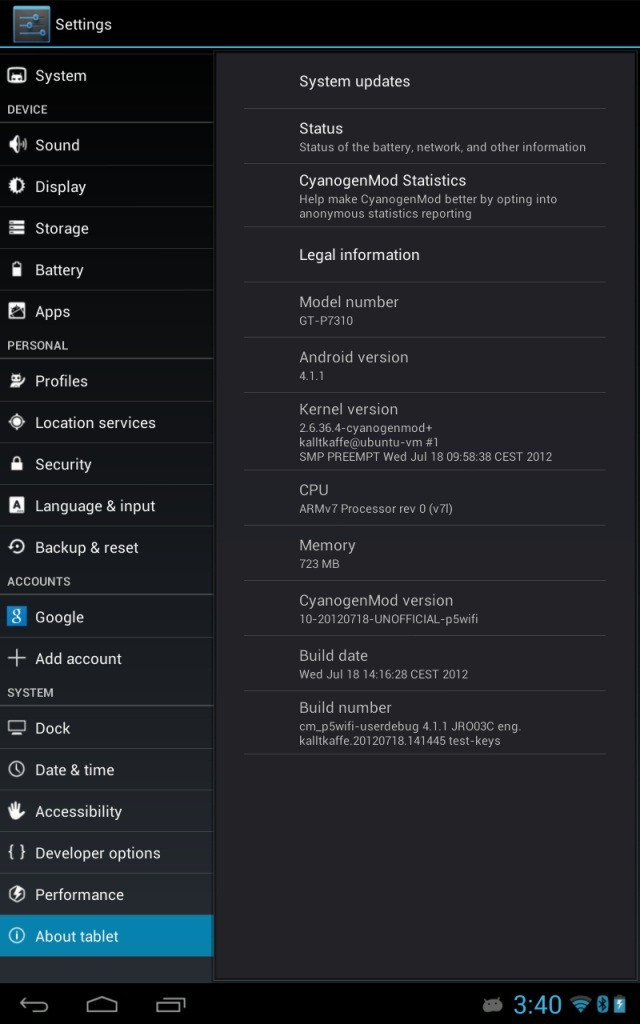 Thanks to the dedicated efforts of XDA Developers, a flurry of Android devices including Samsung Galaxy Tab 8.9 and Galaxy Tab 10.1 are porting the newest Jelly Bean OS onboard. Both the tablet devices are poised to enjoy the goodness of Jelly Bean port through either AOSP ROM or CyanogenMod 10 ROM update. It's a pleasant surprise to Android users given the fact that it took just two weeks for developers to unleash ROM updates following the Jelly Bean source code release.
According to XDA Developers, all four ROMs are said to be fully functional. The AOSP ROM for Galaxy Tab 8.9 is the original creation of XDA senior member safarking, while the CynogenMod 10 ROM for the same device is the handiwork of another XDA senior member kallt_kaffe.
Meanwhile, both the Jelly Bean ROMs for the Galaxy Tab 10.1 are released by yet another XDA senior member MapleSyrup. It must be noted that all the four ROMs have received supervision and developmental help from XDA recognised developer pershoot.
As far as Galaxy Tab 8.9 is concerned, the full working list for the CM10 ROM is not yet ready, apart from how 3G works. In comparison, the AOSP ROM appears to be more stable with minor bugs limited to the camera and Google Now. On the other hand, the CM10 ROM for Tab 8.9 is still rated as developer preview version and hence it may be afflicted with bugs and inherent problems.
In case of Galaxy Tab 10.1, the CM10 port is said to be almost stable with the camera feature listed as not working, while its AOSP counterpart seems to be a little more unrefined with 3G, 4G and AGPS features listed as non-functional.
For download links and developer instructions for each of the four ROMs, check the links below:
In this piece, IBTimes UK brings you the step-by-step guide to installing CyanogenMod 10 based Android 4.1 Jelly bean OS for Galaxy Tab 8.9.
Before you get to the installation steps, you should note a few important tips and tricks from the developer of the ROM:
Backup all the apps you want to keep with Titanium backup before installing because availability of apps will be very limited once you install this.
If the SuperUser app does not remember your choices. Update the su binary a couple of times, after that it works better.
Users must note that this guide pertains to the Galaxy Tab 8.9 with model numbers P7300/P7310 only, and will not work with other models. IBTimes UK will not be held responsible if any damage occurs to your device as a direct consequence of performing the ROM update. Users are advised to proceed at their own risk.
Here is the step-by-step guide to install CyanogenMod 10 based Android 4.1 Jelly bean OS for Galaxy Tab 8.9 [Courtesy: The Android Soul]:
How to Install CyanogenMod 10 based Android 4.1 Jelly Bean on Galaxy Tab 8.9 P7300/P7310
Step 1: It is advisable to backup your important data - bookmarks, contacts, SMS, APNs (internet settings) etc, to prevent loss of data while flashing the ROM update.
Step 2: Ensure that ClockworkMod recovery is installed on your Galaxy Tab 8.9.
Step 3: Download the latest version of CM10 ROM from the XDA Developers' official page based on your model number. It must be noted that different versions of downloads are available for each model - P7300 and P7310. The P7300 is the Wi-Fi and 3G combo model, while the P7310 is the Wi-Fi standalone model.
Step 4: Download Google Apps package from here.
Step 5: Copy the two downloaded zip files from step 3 and step 4 to the root folder of internal SD card.
Step 6: Now, power off the tablet device. Then boot into ClockworkMod recovery with a button sequence. Press and hold volume down + power buttons together until the screen flashes two icons on it (the first icon represents recovery and the second for download mode. Select the recovery icon.)
Now, press and hold Volume Down button, then press Volume Up button to confirm entry into recovery mode.
Note that Volume keys may be used to navigate between options and power key to select a particular option in recovery mode.
Step 7: Tap wipe data/factory reset, then hit Yes on next screen to confirm. Wait until the data wipe process completes.
Step 8: Choose install zip from sdcard, then select choose zip from sdcard. Locate the ROM file on the SD card and select it. Confirm installation by tapping Yes - Install _____.zip on the next screen. The ROM will now begin installing.
Step 9: Once the ROM installation completes, select choose zip from sdcard again. Then choose the kernel file to install the kernel.
Step 10: After the Kernel installation is complete, select choose zip from sdcard again. Now select the gapps-jb-20120717-signed.zip file to install the Google apps package.
Step 11: After the Google Package is installed, select go back then tap reboot system now to reboot the tablet and boot up into CyanogenMod 10. The first boot may consume up to 5 minutes, so leave it alone.
Once the device boots up the desktop or home screen, it confirms a successful installation of Android 4.1 Jelly Bean on your Samsung Galaxy Tab 8.9. For further information and ROM updates, head over to the XDA Developers' official page.