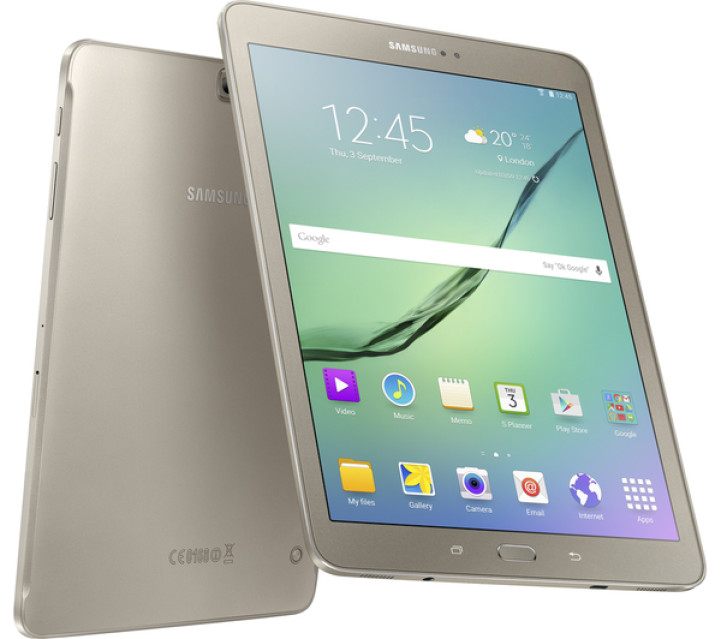 A new render for the yet unreleased Samsung Galaxy Tab S3 has surfaced showing off a premium sandstone back and a flash for the front camera. The Tab S3 will be the third instalment in the company's Tab S series.
Evan Blass, who has been known to tease credible images of unreleased devices through his Twitter handle @evleask, tweeted the Galaxy Tab S3 image. We do not know whether this is the 8in or 9.7in version of the device but in the past except for the screen size and dimensional differences, the two devices have had similar design and features.
There are two important elements to be noted from the leaked image. First is the back of the device that seems to be made of a premium material, most likely sandstone. We do know that the sandstone back did wonders for the OnePlus One and it is possible that Samsung may have borrowed this idea for its latest tablet.
Second, on the front of the top grid appear two distinct sensors. While one of them is the front camera, the second one could be the flash or even a dual camera lens. While two cameras for the front is not a completely new idea as we know Apple is working on something similar for the iPhone, it may be too early for Samsung to include something like this on a tablet.
One can also note that on the sides of the home button, the two side tabs of back and preview buttons have interchanged places. It is generally the back button that is on the left of the home button but in the picture it is positioned on the right.
As for specifications for the device, an earlier TENAA leak had indicated that the Tab S3 8in will sport a 2048 x 1536 AMOLED display, 3GB of RAM and 32GB of expandable internal storage and will run on Qualcomm's Snapdragon 652 64-bit octa-core processor with a 4,000mAh battery on board. The device is expected to run on the latest Android 6.0.1 Marshmallow build of Android OS with Samsung's custom UI.
There are no reliable reports on when the devices will be released for the Tab S3 series but the models have been tested at Samsung's R&D centre in India earlier this year. Going by previous releases of the Tab S series, a July or August 2016 launch is likely for the Galaxy Tab S3.