The UK consumers are just a few days away from the HTC One X+ which is expected to arrive on 22 October with a price tag of £474. HTC's newest, a refreshed version of One X, combines iconic design, enhanced camera functionality, with increased performance as well as longer battery life and huge storage capacity.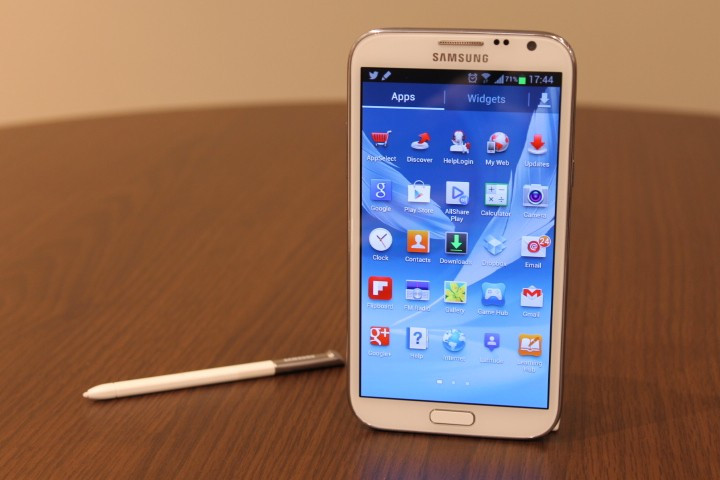 Take a look how the HTC One X+ stacks up against Samsung Galaxy Note 2.
Display
The Samsung Galaxy Note 2 features a 5.5in HD Super AMOLED touchscreen. The screen has TouchWiz user interface (UI) and is covered with Gorilla Glass 2. The resolution of the display is 720 x 1280pixels with a pixel density of 267 pixels per inch.
Samsung's second generation Note features a larger display compared to the original Note which was the company's first Galaxy smartphone with a huge display (5.3in). The 5.5in screen of Note 2, as Samsung notes, provides clear and vivid viewing experience.
The HTC One X+ features a Super LCD2 touchscreen which is smaller than the Note 2 at 4.7in. One of the key feature of the display is it uses Sense UI v4+. The screen is protected with Gorilla Glass 2. The screen resolution of One X+ matches that of the Note 2. But the screen of One X+ has higher pixels density compared to the Note 2 at 312ppi. Considering the higher pixel density of One X+, the handset is expected to deliver clear viewing.
Dimension
The Galaxy Note 2 measures 151.11 x 80.5 x 9.4mm whereas the One X+ measures 134.36 x 69.9 x 8.9mm in thickness. The One X+ is 48g lighter than the Note 2 at weighing only 135g.
Operating System
The Note 2 as well as the One X+ were launched with Android operating system version 4.1.1 (Jelly Bean).
Android's latest software was announced at Google's I/O developers conference which brings a number of improvements, including revamped User Interface (UI), better notifications system and home screen management, as well as improved voice search, text input with offline voice typing, camera and enhanced Android Beam app.
Processor
The Note 2 is powered by Exynos 4 chip featuring a quad-core processor with Cortex-A9 and Mali-400MP graphics unit. A similar chip is inside Samsung's third generation Galaxy S smartphone - Galaxy S3. But the difference is while Galaxy S3's quad-core processor runs at a clock speed of 1.4GHz, the Note 2's processor is clocked at 1.6GHz. IBTimes UK earlier reported how to increase the CPU speed of Galaxy S3.
The One X+, in contrast, is powered by Nvidia Tegra 3 (AP37) chip that features a quad-core processor with ULP GeForce graphics unit. The processor is clocked at 1.7GHz which is faster than the One X's (Tegra3 quad-core) processor which is clocked at 1.5GHz.
HTC claims that the 1.7GHz quad-core processor makes the LTE variant of One X+ up to 67 per cent faster than the One X LTE.
The One X+ features 1GB of RAM against 2GB RAM inside the Note 2.
Camera
The Note 2 has an eight megapixel rear-camera with technologies including auto-focus, LED flash, geo-tagging, touch focus, face and smile detection and image stabilisation. The camera can also capture video in 1080p at 30 frames per second (fps). The smartphone also has a front-facing camera of 1.9megapixel which can do HD video recording.
The Note 2's camera has a number of features including Buddy Photo Share, Burst Shot and Best Photo, which were introduced in the Galaxy S3. The camera features a unique functionality called Best Faces with which users can choose the most preferred face or pose of each person from group portrait photos.
Samsung had reportedly plans to use a 13 megapixel sensor in the Note 2 manufactured by Sony. But Samsung could not get enough CMOS sensors from Sony due to which the Galaxy Note 2 had to use the eight megapixel camera.
The One X+ features a similar resolution rear-camera as well as camera technologies like the Note 2 including simultaneous HD video and image recording. The camera can capture 1080p video at 30fps. The front-camera of One X+ is of slightly lower resolution than the Note 2 at 1.6megapixel and it can also record video in 720p at 30fps. But the front-camera of One X+ carries a new functionality called self-portrait mode which allows users to capture high quality photos by detecting human faces at various angles at the same time applying subtle enhancement to skin as well as eyes.
Connectivity
The Note 2 supports Wi-Fi 802.11a/b/g/n, dual-band, DLNA, Wi-Fi Direct, Wi-Fi hotspot, Bluetooth v4.0 with A2DP, LE and EDR. It supports HSDPA (21 Mbps) and HSUPA (5.76 Mbps) network speeds.
The One X+ also offers Wi-Fi 802.11a/b/g/n, dual-band, DLNA, Wi-Fi hotspot, Bluetooth v4.0 with A2DP. It also supports HSDPA and HSUPA speeds. Both devices are NFC-enabled. But what makes the Note 2 as winner in this particular feature is the 4G connectivity, a feature which the One X+ lacks.
Storage
The Galaxy Note 2 is available in three storage options at 16GB, 32GB and 64G whereas the One X+ comes in two storage options at 32GB and 64GB. The Note 2 supports microSD card for additional storage space while the One X+ does not.
Battery
The Note 2 is powered by a huge battery of 3100mAh which is expected to deliver extended battery life.
The One X+, on the other hand, uses a 2100mAh battery with the company boasting the battery will deliver 37 percent (4.7 hours) more talk time.
Must Read: