After months of rumours and speculation, Samsung has finally given a more detailed look at its next flagship smartwatch, called the Gear S2. The watch was shown off briefly at the launch of the new Galaxy Note 5 and Galaxy S6 Edge Plus at a press event in New York.
To be formally revealed at the IFA technology trade show in Berlin in September, the Samsung Gear S2 was shown first by Samsung, then as part of a fashion photoshoot hours later. The watch has a round screen - unlike the square Gear S and Apple Watch - and appears to be running Samsung's Tizen operating system, not Android Wear, as favoured by its rivals.
The watch is shown in black and white colour options - we would not be surprised in the slightest if there is a gold one too - and with a silver finish around the face. A home screen shows a circular selection of app icons, including a calendar, phone, weather, messaging, voice recording, running, Nike+ and settings applications. Another fleeting glimpse shows a watch face which looks like a radar screen.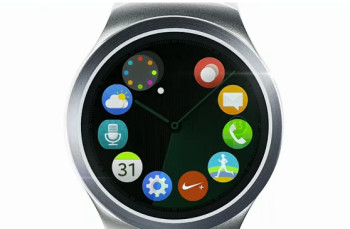 Hours later, a so-called fashion 'Lookbook' was published online by Samsung, showing off the two new phones and the Gear S2, plus a group of all-female models dressed in bizarre clothing. Samsung is clearly going down the fashion route with the Gear S2, a smart move given the chunky and technology-heavy looks of its first smartwatch range. But of equal importance will be the watch's battery life - the Apple Watch cannot manage two full days between charges - and its usefulness, as consumers are generally still unsure of exactly how smartwatches will supplement their smartphones.
Samsung will be holding a press event at IFA - although we don't have the exact date and time just yet, IBTimes UK will be on the ground in Berlin to bring you the latest news and hands-on first impressions of whatever it announces.