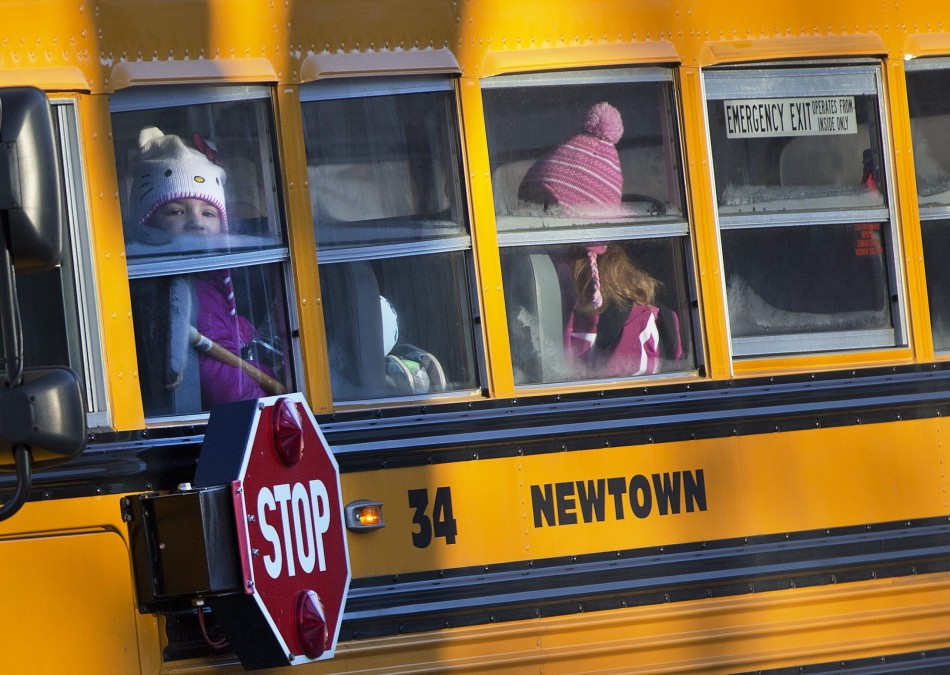 Children at Sandy Hook Elementary School in Newtown, Connecticut, have returned to class for the first time since a gunman killed 20 of their classmates in December.
Some children were dropped off by their parents while others arrived in the traditional yellow school bus to find coloured posters welcoming them back.
"I'm not worried about her going back," said Vinny Alvarez, who accompanied his 8-year-old daughter Cynthia. "The fear kicks back in a little bit but we're very excited for her and we got to see many, many kids today. The atmosphere was very cheerful."
The return of the children marks a turning point for the school which was the scene of a gun rampage in December when local man Adam Lanza, 20, killed his mother, walked into the school grounds and opened fire indiscriminately.
Shooting with several weapons including a semi-automatic rifle, Lanza killed 26 people before taking his own life.
Christine Wilford, mother of seven-year-old Richie, told CNN that she was glad her son was returning to the school.
"It's good he's going back. If I leave my child anywhere, I'm leaving a piece of my heart, so it's difficult to leave him," she said.
While police investigations were under way, the children were taken in at Chalk Hill School in the neighbouring town of Monroe.
Chalk Hill, which was no longer in use, was refurbished and redecorated in cheerful colours to help ease the children's return to normal life.
"[We want] as much of a normal routine as possible," Newtown Public Schools superintendent Janet Robinson said of Sandy Hook's reopening. "[Today] is a regular schedule, and we will do the kinds of things that we know are good for kids."
Extra security measures, including more cameras and car checks, have been brought in, according to Monroe Police Department's Lt Keith White.
"Right now it has to be the safest school in America," White said.
The killings reinvigorated discussions over America's relaxed gun control laws.