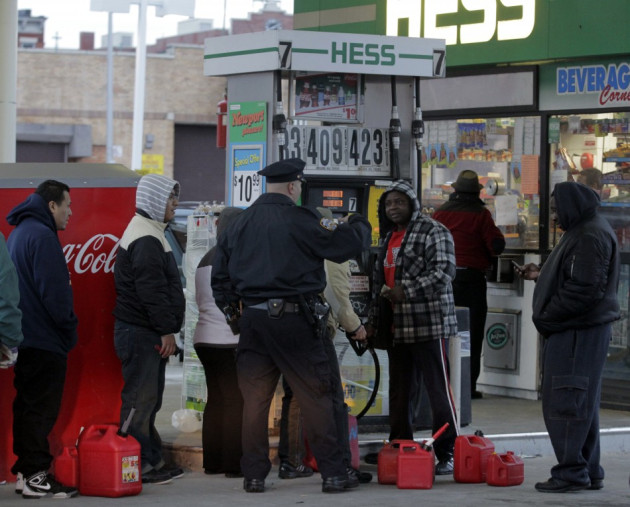 Tension is rising on America's north-eastern coast in the wake of Superstorm Sandy, with power and fuel shortages causing huge queues and widespread consternation.
Police have been called in to patrol those gas stations which are still operational, as hundreds of people brave freezing temperatures to fill cars and jerry cans.
A man has been arrested in the New York borough of Queens after allegedly jumping the queue at a gas station and using a gun to threaten a fellow motorist who complained.
Damage caused by floods and power loss is preventing the distribution of fuel and essential supplies to huge tracts of the eastern seaboard. About 4 million people across the east coast have been without power since Monday.
Power supplier Consolidated Edison said it will be impossible to restore power to large parts of New York until 11 November. Temperatures are expected to plunge below zero degrees celsius over the coming days.
"I'm leaving because I'm freezing. My apartment is ice cold. Everybody's tired of it," New York West Village resident Rosemarie Zurlo told AP.
New York Staten Island Borough President James Molinaro called the Red Cross an "absolute disgrace," because of its slow response to the crisis. It is reported that 80,000 people on Staten Island are still without power, and many have been left homeless by the hurricane.
"People were coming in with no socks, with no shoes. They were in desperate need. Their housing was destroyed. They were crying. Where was the Red Cross? Isn't that their function? They collect millions of dollars," Molinaro told NBC.
"There are people who are cold, who are hungry, who are without a place to go, and looking for warmth. There are people still trapped. I walked on the rooftop of a house yesterday, I stepped on it because the debris that surrounded it was level with the rooftop. That's what happened here on Staten Island," State Senator Andy Lanza told The New York Observer.
The total cost of the damage caused by Sandy has been estimated at around $50bn (£31bn). More than 90 people have died in storm-related incidents in the US.