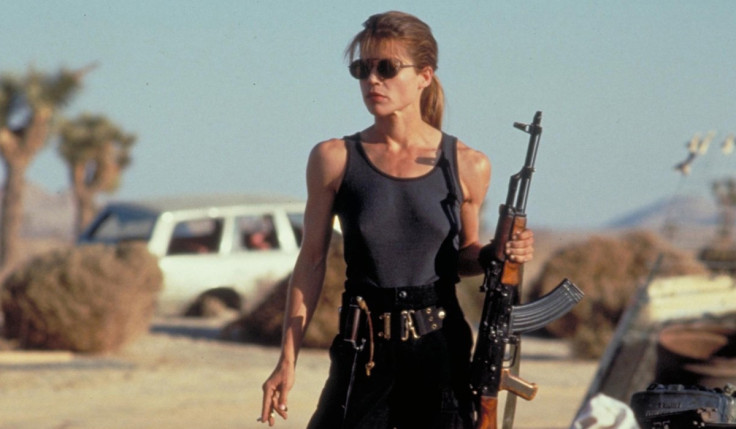 Somehow, 2015's atrocious Terminator: Genisys didn't mark the end of Hollywood's efforts to keep the time-travelling series relevant. Like its robotic villains, it just keeps going, this time with James Cameron returning to the series for another instalment.
Cameron isn't the only one coming back. Arnold Schwarzenegger is on board for his fifth (sort of*) appearance, and now it's been revealed that Linda Hamilton will be reprising her role as Sarah Connor too.
"As meaningful as she was to gender and action stars everywhere back then," Cameron said at a private event (via The Hollywood Reporter). "It's going to make a huge statement to have that seasoned warrior that she's become return."
In 1984's low-budget original, Hamilton's Connor was a waitress targeted by Schwarzenegger's killer android from the future because her unborn son would one day lead a human resistance in an apocalyptic future brought about by machines.
In the 1991 sequel, Connor was hardened by her experiences and a true action hero, fighting tooth and nail to protect her son John (played by Edward Furlong) alongside Arnie's now-good T-800.
She played a small role in the 2003 sequel, but her character had died before it took place. At least, we were led to believe she had died. Exactly the nature of her return we don't know, and given how key time-travel is to the series, there could any number of ways she might return.
"There are 50-year-old, 60-year-old guys out there killing bad guys," Cameron continued, "but there isn't an example of that for women."
Cameron is on board as producer, with Deadpool's Tim Miller set to direct the film. Cameron's story was workshopped by a writers room he and Miller put together with the aim of planning out a new trilogy of films.
It should be noted however, that the previous two Terminator films - 2009's Terminator: Salvation and 2015's Genisys - were also envisioned as the starting points for new trilogies. Thanks to poor reviews and box office takings though, they never materialised.
The new Terminator film is tentatively set for release in 2019.
*Arnie appeared in the first three films and Genisys. He also technically appeared in Salvation but it was a CGI recreation of a younger Arnie rather than the actor himself.