Declaring that House Speaker Paul Ryan's "political career is over," former vice presidential candidate Sarah Palin has vowed to campaign in support of his rival in the congressional primary, after Ryan's bombshell announcement that he is not supporting GOP frontrunner Donald Trump.
"His political career is over but for a miracle because he has so disrespected the will of the people," Palin said on CNN. "As the leader of the GOP, the convention, certainly he is to remain neutral, and for him to already come out and say who he will not support is not a wise decision of his."
She also promised that Ryan is about to be "Cantored," referring to Eric Cantor, the former Republican House majority leader who was ejected in a stunning upset in 2014 when right-wing Tea Party challenger Dave Brat bested him in a Virginia primary.
Ryan — the highest-ranking elected Republican and also chairman of the Republican National Convention — announced after Trump surged to apparent unstoppable status as the GOP candidate in the wake of the Indiana primary that he was not yet prepared to support the controversial Republican. Palin endorsed Trump back in January 2016.
Ryan has said he hopes to eventually back the billionaire former reality TV star but he wants Trump to unite "all wings of the Republican Party and the conservative movement."
A number of leading Republicans have vowed to skip the GOP convention in July and not vote for Trump. The last two Republican presidents, father and son George HW Bush and George W Bush, have announced they will not endorse Trump for president.
Others say they will back him out of party loyalty and a drive to do whatever it takes to block Hillary Clinton from the White House.
Palin insisted Ryan wants to run for the White House in 2020 and will have less of a chance if Trump wins this election - part of the reason he is not backing his fellow Republican.
Ryan's primary opponent, Paul Nehlen, endorsed Trump soon after Ryan's announcement.
The man who chose Palin as his running mate in the 2008 presidential election, Arizona Senator John McCain, is chastising Republicans for not falling into step behind Trump.
"You have to listen to people that have chosen the nominee of our Republican Party," McCain told CNN. "I think it would be foolish to ignore them."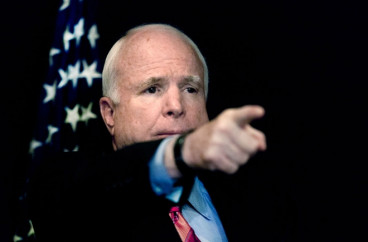 And yet McCain declined to commit to appearing on the same campaign stage as Trump.
He also called on the candidate to "retract" his criticism of prisoners of war. Trump, who received four student deferments to skip military service entirely, said of McCain early in his campaign: "He's not a war hero. He was a war hero because he was captured. I like people who weren't captured."
McCain, a former Navy pilot, spent more than five years in a notorious North Vietnamese prison known as the Hanoi Hilton, where he was repeatedly tortured.
In addition McCain lashed Trumps "off-putting" personal attacks against his rivals.
"Frankly, I have never seen the personalisation of a campaign like this one, where people's integrity and character are questioned," said McCain. "It bothers me a lot. Those wounds take a long time to heal."