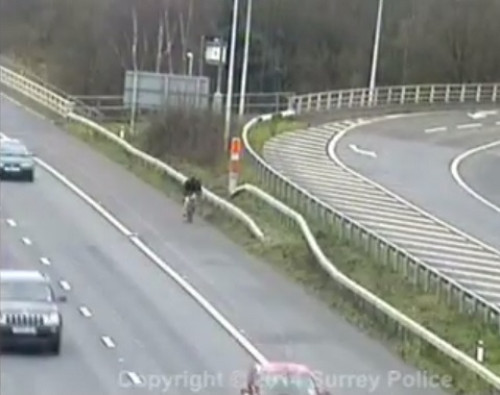 A video shows a lost cyclist pedalling along the busy M25 after his iPhone Sat Nav app directed him up the motorway - because he forgot to put the device on cycle-mode.
Surrey Police received reports the man was cycling between junctions 11 and 12, near Chertsey, and watched him from their Godstone motorway room.
The footage, recorded by a Highways Agency camera, shows the man cycling along the hard shoulder of the road before navigating his way to the central reservation.
He then makes his way up the motorway towards junction 13 where police officers are waiting for him.
The man told officers he had been looking for a shortcut home and that he had entered his address into a Sat Nav app on his mobile phone.
But he accepted a vehicle-only route and was led onto the motorway.
The cyclist was not aware he had committed an offence but was issued with a £50 fine for contraveneing a road traffic sign.