---
Alistair Charlton attends the UK's first Satoshi Square, where bitcoin users descend on the City of London to trade the virtual currency and their thoughts on its future.
---
On a cold Saturday afternoon in the heart of London's financial district, a middle-aged man stands on a chair; he shouts to get the attention of a gathering crowd and points at two men wearing plastic bowler hats.
"He is selling 0.5 BTC at £520 for one, who is buying?
"Are you buying, sir? What are you buying at? £510? I'm selling here 0.5 for £520, will you buy at £520? Yes? Selling at £520."
"Sold," he cheers. "That's the first sale of the day." The crowd of around 100 bitcoin buyers, sellers and enthusiasts - plus a handful of bemused bystanders - applaud, as the deal is processed using a smartphone application.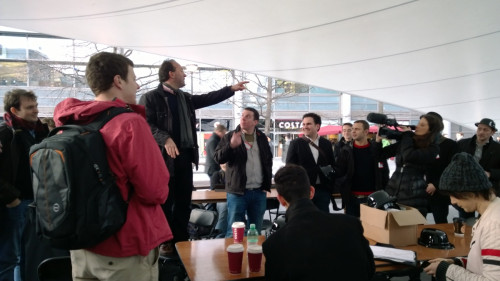 Despite the cold January weather doing its best to freeze traders' hands to their phones, London's first Satoshi Square has got off to a good start.
Named after bitcoin's pseudonymous creator Satoshi Nakamoto, the event was organised by Tom Robinson, co-founder of insured bitcoin storage company Elliptic.
"The aim is to get increased public awareness about bitcoin," Robinson, 32, told IBTimes UK. "As a concept it might be quite difficult to get your head around at first, so we wanted to get people together with digital currency experts to help them learn what bitcoin is, where it's used and what the benefits are."
Bitcoin is a long term investment
The buyer of that first 0.5 bitcoin was Christian, who works in finance and admits he has made "a lot" of money from bitcoin, having invested in the currency in 2010 when each coin was worth just a few pence. Currently, each coin is worth around £570, so at £520 Christian admits he got something of a bargain.
"I see it as a long-term investment," the 33-year-old said. It's my savings, I've always seen bitcoin as a very good way of saving money."
Despite initial concerns that buyers might turn up with briefcases bursting with cash of a dubious origin, the event appeared to run smoothly. Attendees exchanged bitcoin stories and bought bitcoin-branded hats, while reporters circled as another round of trading began.
Robinson admits, however, that host Spitalfields Market was initially reluctant to play ball. "Getting approval took a long time...whenever you mention bitcoin to anybody outside of the actual community, the first thing they think of is the media coverage and [shut-down online drug store] Silk Road...they have to be reassured as to what our motives are, so we've pitched this primarily as an educational event."
Although trading took place, no license was required because the currency is not recognised as legal tender.
Changes by HMRC will see banks getting involved with bitcoin
Robinson is hopeful that HMRC will release a statement in the coming weeks to clarify its position on bitcoin and other such currencies. This - along with clarification from the Financial Conduct Authority - "will be the start. Once that happens I think we'll see banks getting on board offering services to bitcoin startups."
Imminent change is expected by much of the British bitcoin community, including a 25-year-old FX broker who refused to give his name. "2014 will be a boom or bust year, it really will," he told IBTimes UK.
"Bitcoin will either become accepted in the public realm and by government, or it won't. At the moment, now is the time to invest."
However, the City of London broker said the money isn't in buying and selling coins, but in mining them - and he offered a questionable way of cutting your losses, should mining become too difficult.
"You can invest in bricks and mortar, or an ISA, but at 1.5% it's very little return. So you can take a punt [on buying mining equipment] and it can pay off majorly. The worst case scenario, you can be mean and sell your mining equipment to someone who doesn't have a clue and make back your money."
The broker said he is awaiting delivery of a new bitcoin mining machine capable of earning more than €8,000 (£6,600) worth of coins over the next six months. At €2,100, the powerful computer will have paid for itself and made a profit of €6,000 in that time.
Now is the time to mine
Bitcoin is programmed to automatically become more difficult to mine over time, a situation the broker claims is difficult to plan for.
"This is why now is an important time, because now it's still manageable on a small scale, whereas in a few months time, unless you have access to companies who are really in the know and have a lot of money to invest, you won't be able to partake."
He again explains his backup plan of offloading equipment to someone less knowledgeable. "It's mean, but at the end of the day, you know..." he tails off, before adding: "By the end of 2014 it'll be accepted or not. It'll be an interesting year."
London's first Satoshi Square may not have had the pace and chaos of the City trading floors it was trying to emulate, but for anyone discouraged by the faceless, anonymous and often confusing world of bitcoin, being able to meet and talk with experts in person provided a human element the crypto-currency has so far failed to offer.