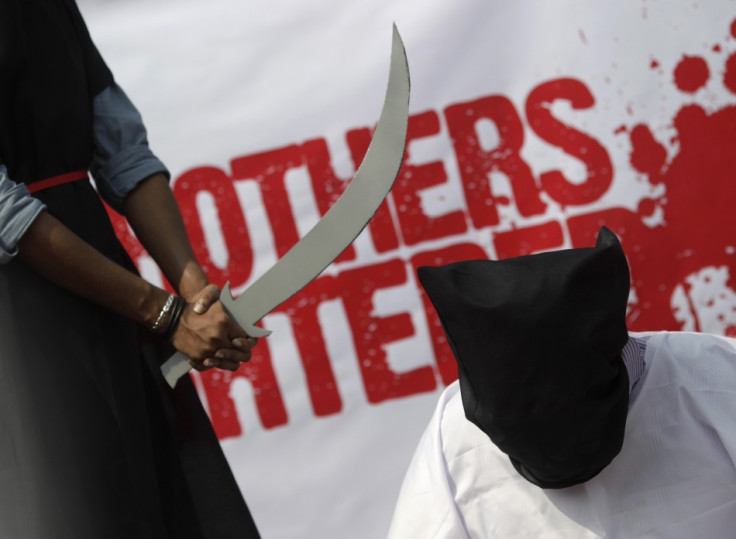 Gruesome images have emerged of the public beheading in a car park of a Sudanese man in Saudi Arabia accused of 'sorcery' and 'witchcraft'. Abdul Hamid Bin Hussain Bin Moustafa al-Fakki became the 44th person to be killed in Saudi Arabia this year when he was publically beheaded in a car park in the city of Medina.
The country's interior ministry confirmed on Monday the killing of Mr al-Fakki aftere chilling and grainy footage emerged showing him being decapitated by sword - the Saudi's preferred method of execution.
Little is known about the case of the Sudanese national, who was a migrant worker in the Gulf Kingdom, but it is understood he was arrested in 2005 on charges of "sorcery" after being entrapped by a member of the country's religious police. He was tried in secret without legal representation and sentenced to death in 2007.
Amnesty International, the London-based human rights group, campaigned unsuccessfully for Mr al-Fakki's release and have condemned the charges of sorcery against him, a crime which they say is not clearly defined in Saudi law.
"Abdul Hamid's execution is appalling as is Saudi Arabia's continuing use of this most cruel and extreme penalty," said Malcom Smart, Amnesty International's Director for the Middle East and North Africa.
"That he should have been executed without having committed anything that would appear to constitute a crime is yet another deeply upsetting example of why the Saudi Arabian government should immediately cease executions and take steps to abolish the death penalty, " he added.
43 people had previously been executed in Saudi Arabia this year, an increase of 17 from 2010. A further 140 prisoners are believed to be facing the death penalty in the Kingdom, including Lebanese television host Ali Hussain Sibat, who is accused of witchcraft for predicting the future of his TV show. Eight Bangladeshi migrants were beheaded in the capital Riyadh on October 7, prompting protests in Bangladesh against the killing.