Saudi Arabia has defended its human rights record to the UN Human Rights Council, in what charity Reprieve claims is a 'sick joke'.
Saudi Arabia's minister of culture and information, Bandar al-Ali, told the council in a Geneva meeting on 8 March that the kingdom's government respects human rights and "fights torture in all its physical and moral manifestations".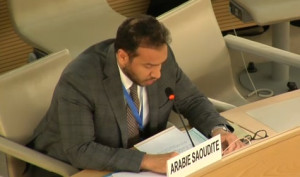 Al-Ali said: "My delegation reiterates that Saudi Arabia is one of the very first countries that promoted human rights... and such support and commitment to promote and protect human rights is but a duty imposed by the Islamic Sharia from which the statutes of my country is derived... in all its physical and moral manifestations through strict legislations and executive measures that are applied free from discrimination or distinction regardless of any other consideration.
"Criminal procedures code prevents any physical or psych harm to be inflicted on an arrested person. It is prohibited also to subject them to any torture or degrading treatment; it is inadmissible to use means of coercion against an accused person to extract forcible confessions; it is inadmissible to force the arrested person to sign if he refuses to endorse his testimony."
However, the minister's comments were criticised by human rights organisation Reprieve, which said the country was guilty of perpetrating a number of human rights abuses – an issue it added must be tackled by countries close to the kingdom.
Maya Foa of Reprieve said: "Saudi Arabia's claims to the UN Human Rights Council sound like a sick joke when one considers the reality within the country – including the arrest, torture and execution of juveniles, political protesters and others.
"Countries that are close to Saudi Arabia – including the UK – must urge that government to halt these terrible abuses, instead of simply trying to cover them up with paper-thin rhetoric."
Reprieve puts the number of people executed in Saudi Arabia in 2016 so far at 70, adding that many prisoners were facing execution for non-violent offences with many people alleging they had been tortured into confessing to crimes.