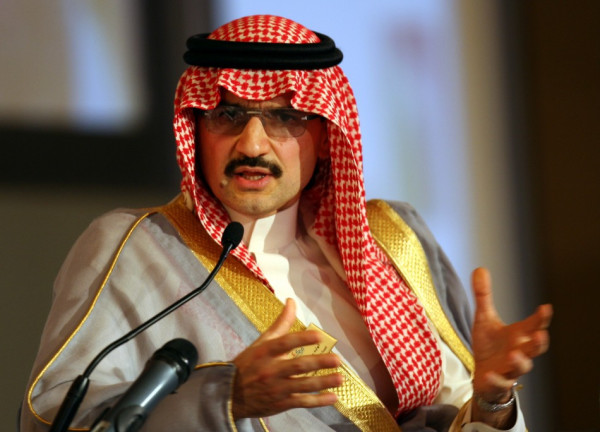 Saudi Arabian billionaire, Prince Al-Waleed bin Talal is suing Forbes magazine. The 58-year-old businessman and member of the Saudi royal family alleged the publication's iconic list of the world's billionaires and their fortune has undervalued his wealth by $9.6bn.
Talal is presently ranked 26th on the list, with $20bn to his name. The list is topped by Mexican billionaire Carlos Slim, who is valued at $73bn. The prince claims his actual fortune is closer to $30bn, meaning he would move up 16 places and break into the top ten.
According to the Guardian, the lawsuit also alleges the magazine is "demonstrably biased" against people Saudi Arabian firms. Talal has filed a suit in a high court in London. The report quotes legal experts as claiming he will need to provide substantial proof to support his accusation.
Forbes has claimed "intermittent lobbying, cajoling and threatening" by the prince's representatives and the magazine has backed its research, findings and the story. The publication also questioned Talal's tactics in filing the case in London and not New York City, where the magazine is headquartered.
The statement reads:
"We're very surprised at claims that Prince Alwaleel has decided to sue Forbes, particularly if he has done so in the United Kingdom, a jurisdiction that has nothing whatsoever to do with our recent story which raised questions about his claims about his wealth. The Prince's suit would be precisely the kind of libel tourism that the UK's recently-passed libel reform law is intended to thwart. We would anticipate that the London high court will agree. Forbes stands by its story."
According to the profile of Prince Al-Waleed bin Talal by Forbes, he made his fortune through investments. He owns 95% of the Kingdom Holding Company, which trades on the Saudi stock exchange and has stakes hotel chains like the Four Seasons Hotels & Resorts and Movenpick Hotels, among others. He also owns shares in Citigroup, News Corp and has an estimated 3% stake in Twitter.