Ensaf Haidar stands in front of the Embassy of Saudi Arabia in London, clutching a smiling photograph of her husband, Raif Badawi, who is behind bars for "insulting Islam through electronic channels."
It is almost five years since Saudi blogger Badawi was arrested for criticising the harsh measures of the Committee for the Promotion of Virtue and the Prevention of Vice, Saudi Arabia's religious police. On his website, the Liberal Saudi Network, Badawi questioned the Saudi regime's adherence to Wahhabism, a reactionary branch of Islam which aims to purify the religion and vehemently opposes Shia Muslims.
His criticism was seen as a grave offence by the Saudi regime and he was sentenced to 10 years in prison, a fine of one million Saudi riyals (£200,000) and 1000 lashes. He received the first 50 in January 2015. Haidar watched on YouTube how her husband was flogged in front of a mosque in Jeddah. The next flogging was suspended because of Badawi's poor health, but the sentence still stands and his family live in fear that he will be whipped again.
After her husband was jailed, Haidar started receiving death threats. She fled to Canada with her three young children in 2014 where she was granted political asylum. From the other side of the world she has continued to campaign for Badawi's freedom, travelling across the globe to meet with human rights activists and politicians and raise awareness about her husband's plight.
Haidar tells IBTimes UK about her family's torment since Badawi's arrest.
"You can imagine our suffering. We feel every hour, every day, every week like a month,"she says at a vigil outside the Saudi Arabian embassy in London on Wednesday.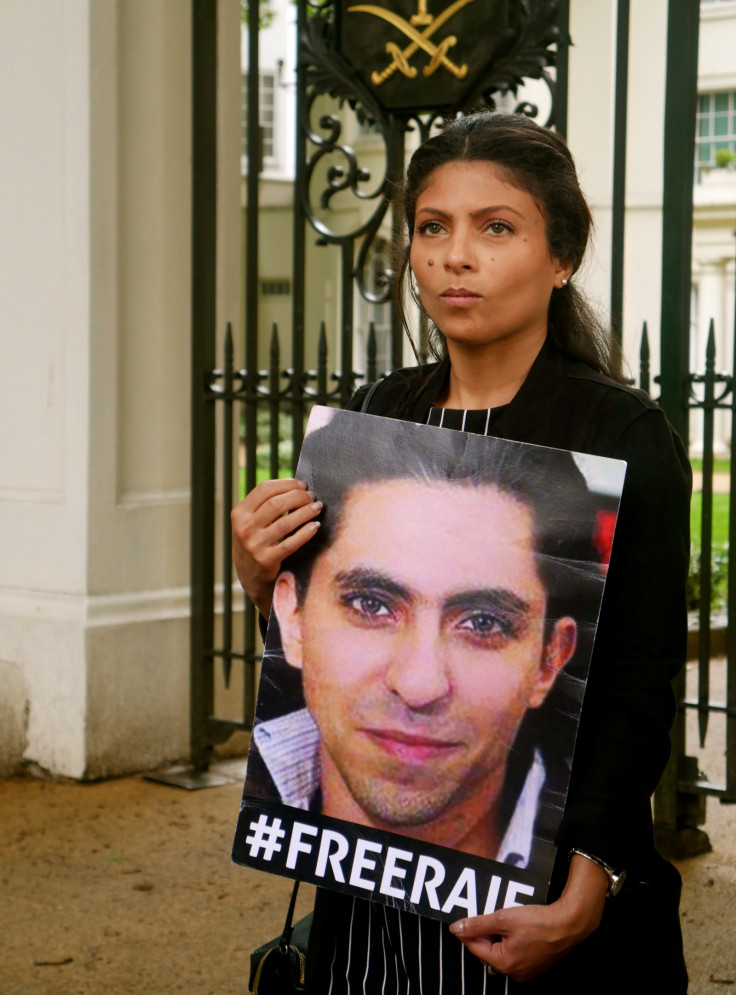 She used to speak to him on the phone regularly, but now he calls less frequently. He has diabetes and hypertension and has been complaining of kidney pain. His mental health has deteriorated, Haidar says. "Since he has been away from us for five years, he doesn't know much of what is going on in the outside world."
Haidar is joined by human rights organisations in London to "preserve Raif's morale and to show him that the world stands with us," she says. Haidar holds a weekly vigil in her Canadian hometown Sherbrooke to raise her husband's spirits and campaign for his release.
British human rights activist Peter Tatchell stands among the protesters holding placards emblazoned with the slogan 'Free Raif.'
"We are here to say that we won't go away until Raif, his lawyer Waleed and all political prisoners are free," Tatchell tells IBTimes UK.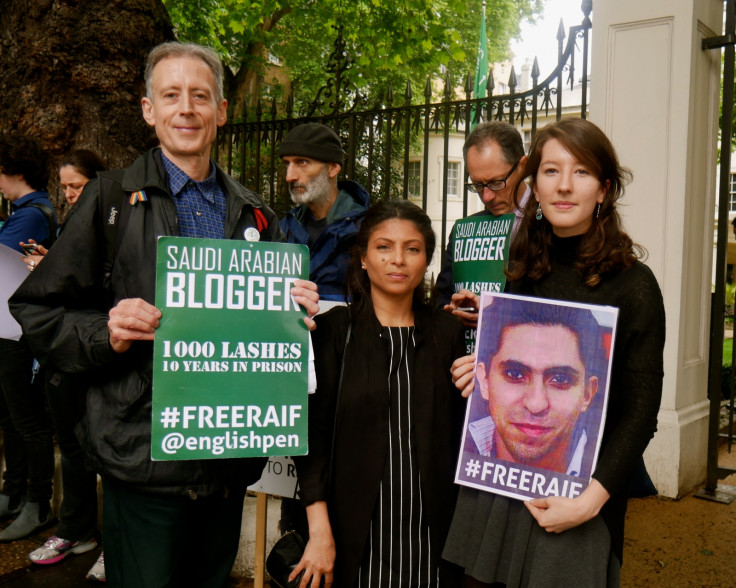 "These men and women are in detention for merely expressing opinions and ideas that the Saudi regime does not like. We are urging the Saudi government to show them clemency and commute their sentences."
The UK and US governments have it in their power to pressure Saudi Arabia into releasing political prisoners "by ending our sordid commercial deals with the Saudis," he says.
83% of UK arms exports, almost £900 million, in 2015 went to Saudi Arabia, according to research by Greenpeace's EnergyDesk. In the same year, the UK bought £900 million of oil from the kingdom.
"If Western countries claim they support human rights, they have to act to support human rights. That means giving an ultimatum to Saudi Arabia [that] there will be no more deals unless Raif Badawi and other political prisoners are free," Tatchell says.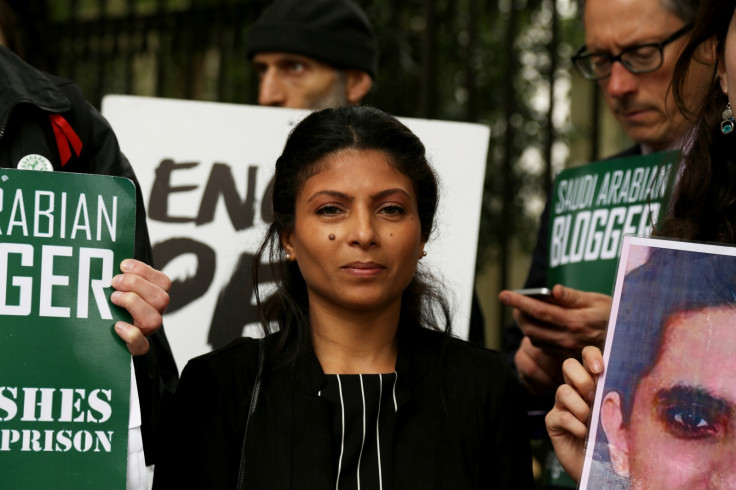 Saudi Arabia is one of the most tightly controlled media environments in the world. It is ranked 168th of 180 countries in the 2017 World Press Freedom Index, having fallen three places in the last year. There is no independent media, meaning that the internet is the only place information can freely be reported. But as Badawi's case shows, opinions online are also strictly policed.
"The situation is getting worse," says Alexandra El Khazen, head of Reporters without Borders' Middle East desk. There are currently 11 journalists and bloggers behind bars in Saudi Arabia, she tells IBTimes UK. They have been sentenced under the anti-terrorism and cyber security laws "simply for expressing their opinion online," she says.
Despite the lack of progress, Haidar strongly believes that the international campaign will have an impact and that the family will be reunited. "I am convinced that Saudi Arabia is currently adopting reforms which will maybe lead to the release of Raif," she says. "I am convinced always that he will be free soon."