One year ago, the world watched in horror as Saudi Arabian blogger Raif Badawi was lashed 50 times in a public square in Jeddah for setting up an online forum public debate and "insulting Islam".
Sentenced to 1,000 lashes and ten years imprisonment, Badawi – a 31-year-old father of three and an advocate of freedom of expression, religion and women's rights – is still in jail and could be flogged again at any time.
On Friday (8 January), protesters will gather outside the Saudi Arabia embassy in central London to mark the one-year anniversary of Badawi's flogging, as the crackdown on human rights in the kingdom intensifies. There is growing concern over the state's dismal human rights record – with mass executions and numerous prisoners of conscience, and thousands of civilians killed in Saudi-led airstrikes in Yemen. Just five days ago, 47 people were executed on terrorism charges, including Shia leader Nimr al-Nimr, who led peaceful anti-government protests.
Badawi was first detained and questioned on apostasy charges in 2008, but was released shortly afterwards. In 2009, he and his wife, Ensaf Haidar, had their bank accounts frozen and Haidar's family filed a court action to forcibly divorce the couple on the ground of Badawi's alleged apostasy.
In June 2012, Badawi was arrested and formally charged with insulting Islam and apostasy for setting up a blog which championed free speech in the autocratic kingdom, with the latter charge threatening to bring a punishment as severe as the death penalty. The Saudi Free Liberals, which opened up discussion of religion and politics, was shut down after his arrest. It was used to criticise the kingdom's ultra-conservative interpretation of Islam known as Wahhabism, which originated in Saudi Arabia.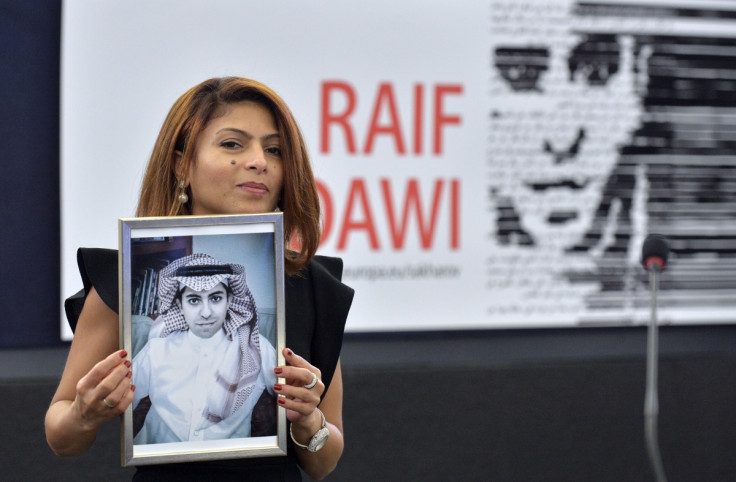 One excerpt of Badawi's writings featured in 100 coupe de fouet, a collection of 14 texts which angered Wahhabi clerics, reads: "During the times of the Prophet, Peace be upon Him, women participated in prayers directly behind men, and nothing separated them (contrary to what is practised in our days in places of worship), they even prayed without covering their face, when we oblige them to veil their faces on the grounds of Mecca and Medina, contrary to the law of Islam!"
In December 2012, Badawi appeared before a Jeddah court, where according to Amnesty International he was also accused of ridiculing Saudi's morality police. After initially being sentenced to 600 lashes and seven years in prison in 2013, Badawi's sentence was increased to 1,000 lashes and 10 years in prison. Human rights groups maintain his case is part of a wider crackdown by the Saudi government on freedom of speech and dissent, following the 2011 Arab Spring uprisings.
Shortly after his arrest, Badawi's family fled to Quebec, Canada, where they were granted political asylum. Haidar is president of the Raif Badawi Foundation – which calls for freedom of expression in the Arab world – and has relentlessly lobbied Western governments on behalf of her husband to urge them to speak directly with the Saudi leadership. She has said she is normally able to speak to her husband on the phone once or twice a week. And although careful to avoid criticism of Saudi leaders, she has also been receiving anonymous threats.
"The first day Raif was sent to prison I decided that I had two choices: to be weak, give up and hide in a corner weeping, or to stay strong and fight for Raif's freedom," Haidar wrote in a blog for Amnesty. "I am the kind of person who always has high hopes, despite the obstacles."
Finally, one day after the attacks on the offices of the French satirical magazine Charlie Hebdo on 7 January 2015, Badawi received 50 lashes as the first part of his punishment. Further floggings were delayed, initially due to medical concerns and since then, for unknown reasons. Despite an international outcry, the ruling has been upheld by Saudi's Supreme Court.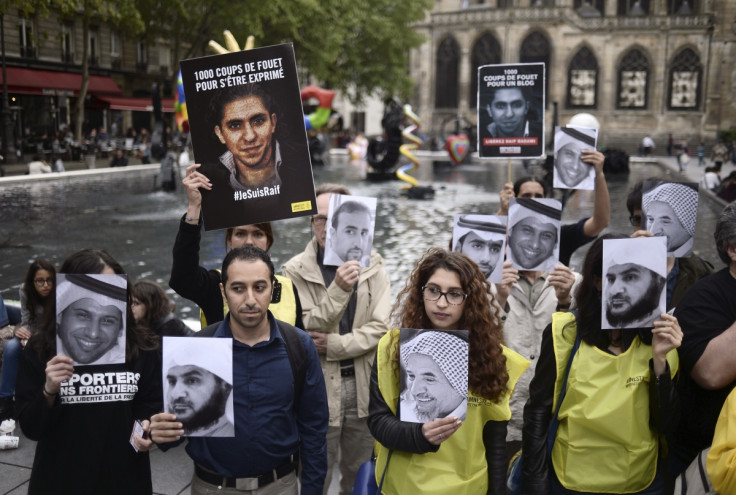 In October 2015, Haidar wrote her husband's floggings would soon resume. Citing an "informed source", she said Saudi authorities had "given the green light" to resuming Badawi's punishment at the prison where he is held. The same month, Badawi was awarded the EU's Sakharov prize for human rights to a standing ovation in Strasbourg.
This year has already shown no signs of progress in improving Saudi Arabia's record for human rights. According to Human Rights Watch, the mass execution which took place on 2 January followed a year in which 158 people were executed – 47 men were killed in the largest mass execution in the country since 1980. Each of the victims were beheaded except for four, who were killed by firing squads. Nimr al-Nimr, a prominent Shia cleric, was one of those executed, having been sentenced to death in 2014 on charged related to his peaceful criticism of Saudi officials.
There have been calls for the UK to do more to intervene, after Britain issued a mild condemnation of the latest mass execution. "I am deeply disturbed by the escalation in tensions in the last 24 hours in the Middle East," junior foreign officer minister Tobias Ellwood said. "The UK is firmly opposed to the death penalty. We have stressed this to the Saudi authorities and also expressed our disappointment at the mass executions."
Meanwhile, according to Amnesty, ministers have refused to halt arms sales to Saudi Arabia despite the opinion that their sales contravene the Government's international legal obligations over avoiding the risk that they will be used to commit human rights violations in Yemen.
As the situation escalates, Badawi's health is deteriorating, Haidar has said. Her husband went on hunger strike after being transferred to a new, more isolated prison. "I hope that this hunger strike is not a sign that he has given up," she said.