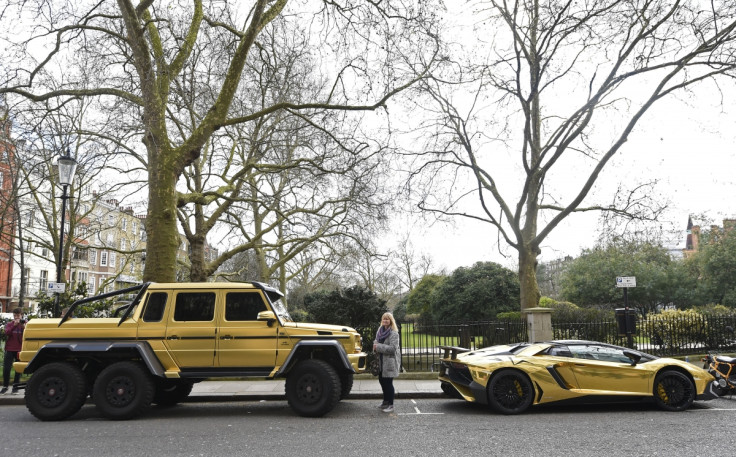 A tourist from Saudi Arabia with his flashy fleet of gold vinyl wrapped supercars worth around £1m ($1.44m) parked in Knightsbridge area in central London attracted many onlookers and hundreds of pounds in parking fines as well.
The fleet, said to be owned by Saudi billionaire Turki Bin Abdullah, included a £370,00 six-wheel off-roader Mercedes G63, a Bentley Flying Spur worth £220,000 that hits a top speed of 200mph, a two-door version of Rolls-Royce Phantom Coupe worth £350,000 with a 6.75-litre engine, and a £350,000 Lamborghini Aventador Superveloce with a 6.5-litre V12 engine that accelerates from 0 to 62mph in 2.7 seconds and hits a top speed of 217mph, according to a report in The Telegraph.
Like many super-rich tourists from the Middle East, who drive along in their luxury cars, the opulence-loving Saudi, believed to be in his 20s, arrived in London over the Easter weekend. His car was parked in Cadogan Place, outside the Jumeirah Carlton Tower Hotel, in Knightsbridge area in central London, according to another report in The Telegraph.
While many Londoners passing by the parked fleet of gold-plated supercars were amused by the view and were spotted clicking pictures, other car owners were struggling to find a parking slot for their cars.
Two separate penalty notices were slipped under the wiper blade of the parked Lamborghini, while the Mercedes and Bentley had one each. The Saudi tourist owes around £320 as parking fines to the Royal Borough of Kensington and Chelsea. The fines of £80 were levied for each parking, but could be reduced to £40 if paid within 14 days. However, if unpaid, the vehicles could be removed and fines increased. A spokesman for Kensington and Chelsea Council reportedly told the publication that they follow up on the tickets issued to foreign cars and drivers to prevent them being ignored.
The Royal Borough of Kensington and Chelsea reportedly received many complaints from residents against car fleets of flashy tourists, following which a Public Spaces Protection Order in Knightsbridge was issued. The order bans such luxury car drivers from revving their engine, rapidly accelerating, racing, performing stunts, sounding the horn or causing obstruction for normal traffic. A breach of the order attracts a fine of up to £1,000. Around seven drivers were given fixed penalty notices over the past three weeks.