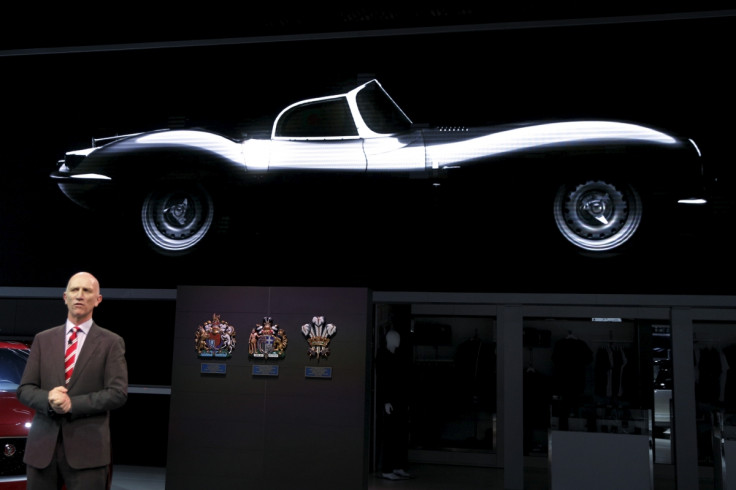 Jaguar Land Rover plans to resurrect its legendary XKSS model. At the 2016 New York Auto Show, the British car manufacturer said it will resume building the two-seater which etched its name in history after winning the famous 24 Hours of Le Mans race for three years in a row starting 1955. The coupe is a road-legal version of the Jaguar D-Type.
In 1957, JLR planned to build 25 of these cars. However, only 16 were made before a fire broke out at its Coventry factory, destroying the remaining nine XKSS chassis.
Most of the 16 cars were sold in the US are understood to still exist. While each is estimated to fetch $5m (£3.54m,€4.48m) or more in auction, the nine new cars that JLR has announced it will build are expected to be priced at "more than a million pounds" each.
Building these nine cars, which will be called "Continuation" XKSS, poses new challenges to the iconic carmaker. The British company, in order to get the right specifications, conducted laser scans of existing XKSS models even though it has the original drawings, according to CNN.
Tim Hannig, director at Jaguar Land Rover Heritage. said, "We had a couple of cars in the laboratory for two weeks, and they were completely different. Even on the same car, the right side wasn't the same as the left side. Everything was all over the place, really, because they were made in a different era."
"The panel gaps still won't be as tight as they are on a modern car, but we can promise they'll be consistent. And we know that the build on number 17 will be exactly the same as it is on car 25. That just isn't the case with the original vehicles," Hannig added.
JLR is going through with this heritage project in order to demonstrate its expertise, Hannig said. "Projects like the XKSS are our lighthouse vehicles. They demonstrate our expertise. When we built the lightweight E-Type, we proved that nobody else on the planet knows more about that car than us. When we do the XKSS, we'll be able to say the same for that car and the D-Type it is related to," he explained.