The day has finally come; Prince Harry and Meghan Markle are engaged, Kensington Palace has announced.
With royal engagements lasting typically two to five months compared to the national average of 20 months, experts predict that the couple's betrothal will follow the Queen and Prince Philip's 70<sup>th wedding anniversary on 20 November and a trip down the aisle scheduled for May or June next year.
A spring wedding was also confirmed by the Palace, with them tweeting this morning: "The wedding will take place in spring 2018. Further details will be announced in due course."
Smitten Harry is said to have designed the engagement ring himself, which is to be made using diamonds from a broach that belonged to his mother, the late Diana, Princess of Wales.
British wedding website and app Bridebook previously predicted that Harry and Markle would break royal traditions and design a ring together to ensure the finished product is unique.
Since the couple's engagement comes in the same year as the 20th anniversary of Diana's death, it is a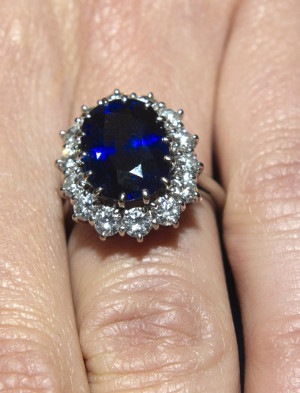 The 12-carat oval sapphire dazzler surrounded by 14 diamonds was inspired by one of Queen Victoria's sapphire-and-diamond brooches gifted to her by her beloved Prince Albert, designed by British jewellers Garrard in 1840. It is now worth approximately £300,000 and is not for sharing, so Harry and Markle may design a ring together.
A Bridebook spokesman said: "We are seeing an increase in the number of couples who are choosing to design their engagement rings together after the proposal. Today, 30% of couples are shopping for their engagement ring together, and 18% are designing them together too."
Since Markle has her own distinct fashion style, her classic yet contemporary image may be reflected in her engagement ring. She will no doubt want to establish a signature look distinguishable from the Duchess of Cambridge, who famously plays it safe when it comes to her style choices.
They continued: "Whilst Harry may want to adhere to certain traditions, Meghan has her own very unique, fantastic sense of style. We predict her ring of choice would be traditional, timeless and elegant but with a distinctive, slightly modern twist.
"A large diamond that has been cut and set in a modern way, for example like a marquise or pear shaped diamond which is very popular, could be set with family stones on either side and would suit the modern royal couple beautifully."
Bridebook added: "Meghan's beautiful skin tone would also perfectly suit a coloured diamond, such as a pink diamond or a blue diamond, both of which are extremely valuable and rare." Sounds dreamy.
Speculation over the couple's "imminent" engagement was rife ever since Markle was introduced to the Queen over tea and sandwiches at Buckingham Palace with Prince Harry recently. It is royal protocol that once a senior member of the royal family introduces their partner to the Queen, they will later get married.
Royal expert Richard Fitzwilliams previously predicted: "This report means we can expect an imminent engagement, with Meghan also rumoured to be exiting her TV series Suits.
"Her interview in Vanity Fair set the scene, their appearances at the Invictus Games confirmed their closeness and meeting the Queen was the logical next step before announcing their engagement, which is expected, probably after the Queen and Duke's Platinum Wedding Anniversary, very shortly.
"A summer wedding next year is expected to follow and there will be much speculation about the venue. Media interest will obviously be phenomenal."