Ash Wednesday on the 10 February marks the beginning of Lent, the period when Christians give things up as remembrance for the time Jesus was said to have spent fasting in the desert while enduring the temptations of Satan. But what are people actually giving up for Lent?
One way to find out is to look at social media - that's what openbible.info has done every year since 2009. The site tracks Twitter users posting about what they're giving up for Lent and compiles the data into lists of the most popular things to abstain from (both serious and not). They also have an interactive tracker that lets you chart the popularity of a term over the last eight years.
Lent 2016
The data set for 2016 isn't complete yet, but the initial findings show chocolate, social networking and alcohol are the current top three. We're yet to see the swing towards 'school' that we might expect after it came in first for both 2015 and 2014 - it's currently only sixth for 2016. Chocolate will probably stay up there too, being a fairly regular entry in the top 10.
The most common things being given up for Lent 2016
Chocolate
Social Networking
Alcohol
Twitter
Facebook
School
Meat
Sweets
Coffee
Soda
The recurring few each year are quite standard, with people using Twitter to complain about, well, 'Twitter' and saying they'll give it up. Alcohol, sugary drinks, meat and swearing are all also regular top hitters we can expect.
Surprises
Culture and news events for any given year can largely effect the standings of certain words and phrases for that year, too. In 2013, the top phrase was 'being Pope' - this largely arising from the Pope announcing his resignation the Monday before and a lot of people making the same joking about him giving up for Lent.
Other times fads enter the list for a year before dropping out completely - 'twerking' entered the list at No. 34 in 2013 but was out of the top 100 by 2014. Another 2013 special was 'horse meat', referring to the horse meat scandal, which then disappeared from the chart entirely.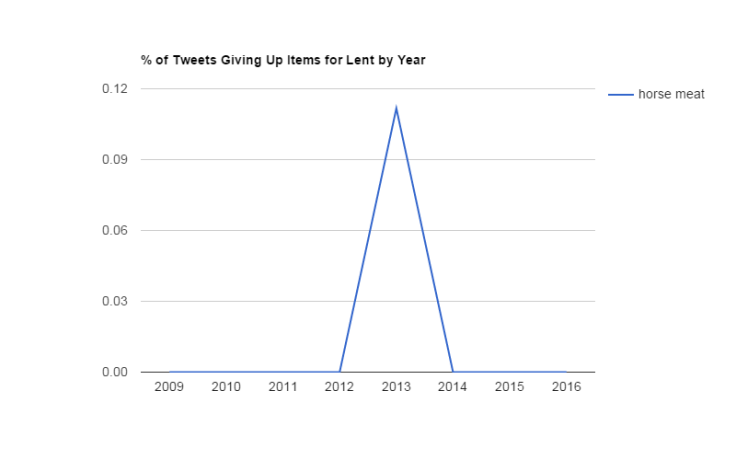 Lent 2015
Last year's zeitgiest word was 'f***boys' which jumped from nowhere to 12th position for the year - we'll have to wait for the final data on 2016 to see whether 'f***boys' have gone the way of twerking but so far they haven't made it to the list.
One more tumultuous thing people have said they're giving up is 'You', which has dropped to 19th currently for 2016, but was 13th in 2015 - a rise from 18th in 2014 and 42nd in 2013. We'll have to wait until the full 2016 list on the 13 February to see if more people are abstaining from' You' for Lent this year.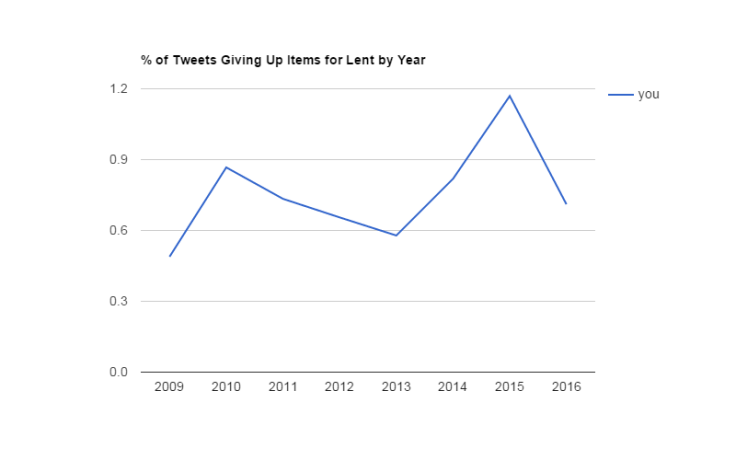 Of course, if that's got you down, it's good to remember that some people are never gonna give you up.