American high-school shooter TJ Lane made offensive hand gestures and issued sickening outbursts to weeping relatives in a shocked court room as he was jailed for life without parole.
Eighteen-year-old Lane delivered a defiant performance to the judge at a court in the US state of Ohio.
He dressed in a t-shirt with the word 'killer' written on it in pen. He stuck his middle finger up in the air to the court and began swearing.
Families of the young students he shot dead gasped when he turned to them and said: "This hand that pulled the trigger that killed your sons now masturbates to the memory. F*** all of you."
Prosecutor James Flainz branded Lane "a disgusting human being" for his macabre display.
"Frankly I wasn't prepared for this," he said, before adding Lane's behaviour proved the rampage was a "cold, calculated, premeditated killing."
"He still refuses to offer any explanation for why he did this. The only explanation I can offer the court is he is an evil person."
Lane shot dead students Daniel Parmertor, Russell King Jr and Demetrius Hewlin when he opened fire in the cafeteria of Chardon High School, in Ohio. Three other students were injured, including one who was paralysed in the attack last February.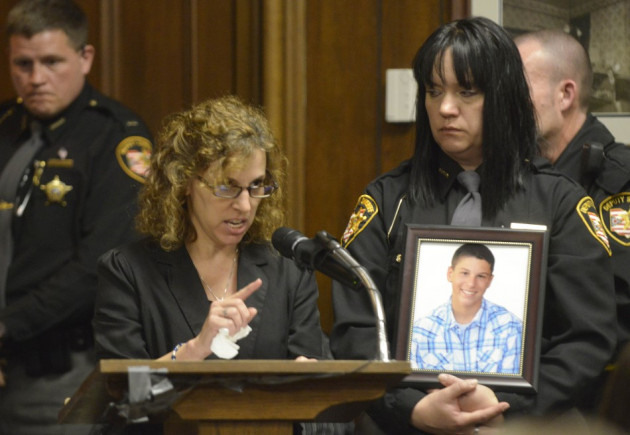 Lane had refused to explain himself at sentencing - telling his lawyer not to mitigate his sentence by presenting witnesses or statements which could have a bearing on his punishment.
Lane smirked at the mother of one of his paralysed victims when she addressed him.
Holly Walczak said: "You are lucky there are so many police in this room. You can smile all you want. You are evil."
There was no trace of emotion on Lane's face, apart from twisted amusement when Dina Parmertor told him she has cried every day since he killed her son Daniel.
"You don't deserve to be called human. You are a monster. You are a weak, pathetic, vile coward.
"I want you to be ensured years and years of pain, which in my opinion is not enough. You don't deserve to take another breath while my 16-year-old son lies in the ground because of your cold, disgusting actions."
Lane piled more agony on grieving relatives by launching an appeal against his sentence. His lawyer apologised in court.