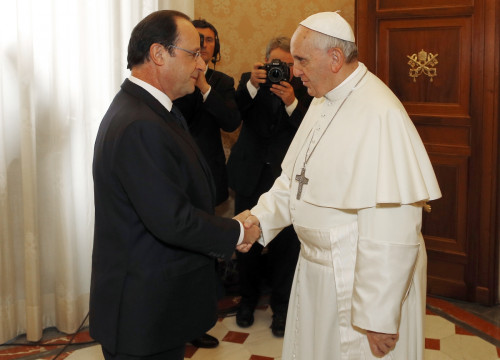 Francois Hollande has been pictured shaking hands with a sombre-looking Pope Francis on his first foreign visit since the scandal of his love affair with actress Julie Gayet broke.
The talks, which covered the family, bioethics and respect for religious communities, were deemed "constructive" by a Vatican spokesperson. The French president praised the pope's "radiant personality" and said there was "convergence on the big international issues".
Hollande's partner, Valerie Trierweiler, spent one week in hospital after French magazine Closer published pictures and reports of the president's alleged affair with Gayet.
The actress has since announced she is suing the magazine for breach of privacy.
While Hollande is in Rome, Trierweiler is travelling to India in support of the work of the French charity Action Against Hunger.
Hollande's visit comes at a time when France is discussing legislation to strengthen the right to abortion and is considering a bill on assisted suicide.
French Catholics, already angered by the government's approval of a same-sex marriage law in May 2013, have signed a petition en masse – more than 100,000 signatures - to ask Pope Francis to express to Hollande their "profound malaise and growing concern".
Catholic traditionalists are also irritated that Hollande and Trierweiler never married. The president has four children with his previous partner, the socialist politician Segolene Royal.
But the French president carefully avoided domestic issues to concentrate instead on international matter such as his "concern" about the status of Christian minorities in the Middle East and the risk of an interreligious conflict in the Central African Republic (CAR). He also asked the Pope to receive Syria's main opposition coalition.
"The Geneva II conference should be aimed at transition. We need to do everything to stop the fighting and dispatch humanitarian aid," Hollande said.
Security measures were put in motion in Rome following the explosion of a small bomb near a French church in the Italian capital.
An adviser for Hollande admitted the visit, which was designed to send "a strong message of dialogue" to Catholics, came "at a difficult time in his private life".