US President Barack Obama has tweeted his hopes for a 'No' vote in today's Scottish independence referendum.
In a post on Twitter on Wednesday, Obama reiterated his stance against an independent Scotland, saying he hopes the UK remains "strong, robust and united".
The referendum to determine Scottish independence takes place today (18 September) with polls open across the country from 7am.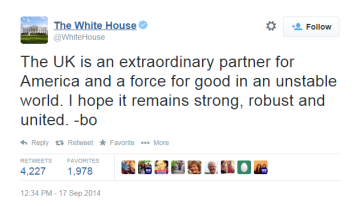 Posting through the official Twitter account of The White House, Obama wrote: "The UK is an extraordinary partner for America and a force for good in an unstable world. I hope it remains strong, robust and united. –bo".
The signature '-bo' is used by the President to indicate when he is tweeting directly.
Obama first commented on the vote in June, telling reporters at the G7 summit: "We obviously have a deep interest in making sure that one of the closest allies that we will ever have remains strong, robust, united and an effective partner.
"But ultimately these are decisions that are to be made by the folks there."
Former President Bill Clinton has also spoken out against Scottish independence, saying he hopes "the Scots will inspire the world with a high turnout and a powerful message of both identity and inclusion."