A record number of honeybees failed to survive the winter in Scotland, with over a third of them dying out, experts have said.
A survey by Strathclyde academics on behalf of the Scottish Beekeeper's Association found that 31.3% of honeybee colonies perished in Scotland last winter but the weather was not a specific factor.
The number was more than the previous record loses of 30.9% during 2009/10, and the highest since records began.
Out of a total of 498 colonies managed by Scottish beekeepers participating in the survey, 156 were lost between 1 October, 2012, and 1 April. Sixty-seven of the 117 beekeepers surveyed reported losing at least some of their colonies during this time.
Alison Gray, of Strathclyde University's Department of Mathematics and Statistics, said: ""This is an extremely high loss rate - the highest we have found since these surveys began in 2006."
Cilleague Magnus Peterson collected data on wild honeybees and found that 11 of the 20 wild colonies known to be functioning in September 2012 perished over the winter.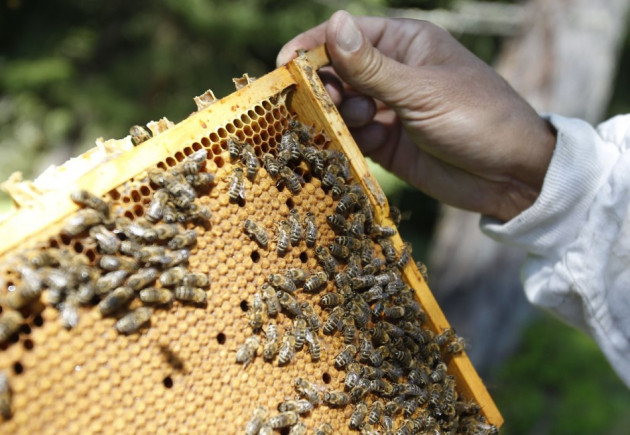 "The latest results indicate a low survival rate - of just 45% - among feral colonies," he said. "This is the worst winter survival rate amongst the feral colonies known to the volunteers since they started monitoring them five years ago."
The researchers warned that the results were of "major concern" because of the role that bees play in crop pollination and agricultural yields, which directly affect food supplies and prices.
It is estimated that if bees became extinct, so too would a third of the essential products in our food supply, including fruit, vegetables and nuts.
Gray said: "Results from European colleagues conducting similar surveys show that the loss rate in Scotland is among the highest in Europe this year, while similarly high losses have been reported recently from England and Wales."
She added that the problems facing Scottish colonies are being seen across the globe.
"Honeybees worldwide are having to contend with habitat loss and reduction in variety of forage sources due to pressures of intensifying land use, increasing spread of new and old pests - caused by globalisation of trade in bees and bee products - as well as possible adverse effects of agricultural pesticides.
"For bees in northern Europe, poor weather conditions - combined with these various other factors which impact adversely on bees - are certainly making beekeeping a challenge and survival difficult for honeybees generally."