A lorry driver has been killed after the strong winds battering Scotland blew over his vehicle onto two cars in Bathgate, West Lothian.
Four other people were injured as the lorry overturned onto the cars on the A801. All four were treated for minor injuries. The A801 was closed southbound at the Heatherfield Roundabout and police are appealing for witnesses.
The accident occurred as winds of up to 140mph hit Scotland as parts of the UK were told to expect some of the worse weather conditions for decades.
All trains have been cancelled as a precaution in Scotland until further notice as lines are blocked with trees and other falling debris.
Many roads and bridges have also been closed for safety reasons, with police advising people to avoid travelling if possible.
A Police Scotland spokesperson said: "We are advising drivers that conditions for travel are extremely poor and there is a high risk of disruption for road journeys in Scotland. If you do travel, you are likely to experience significant delays.
"Congestion caused by vehicles may restrict emergency, recovery or winter maintenance vehicles from providing essential assistance or from clearing roads
"Drivers of HGVs should drive with extreme caution and be aware that you may be requested to park at a suitable position by the police
"If you are travelling on the roads you should ensure you and your vehicle are adequately prepared for the conditions, making sure you have sufficient fuel and supplies such as warm clothing, food and water in the event you are delayed for several hours. Charge your mobile phone and plan your route as well as alternative routes."
Several roads and bridges are closed as a result of the strong winds. The Kessock Bridge at Inverness, Erskine Bridge on the River Clyde, Dornoch Bridge and Skye bridge are no longer accessible. Traffic Scotland has advised the public to avoid travelling on the A90, A94, A9, A85 and A984 due to falling trees and debris.
The weather conditions have also brought trains to a standstill with all trains in Scotland and some in northern England being cancelled.
Network Rail spokesman Nick King said: "The weather conditions are such that we are having to bring the network to a standstill at the moment.
"There's too much debris and too much damage to equipment to continue. We cannot continue to run trains with the levels of wind we are seeing."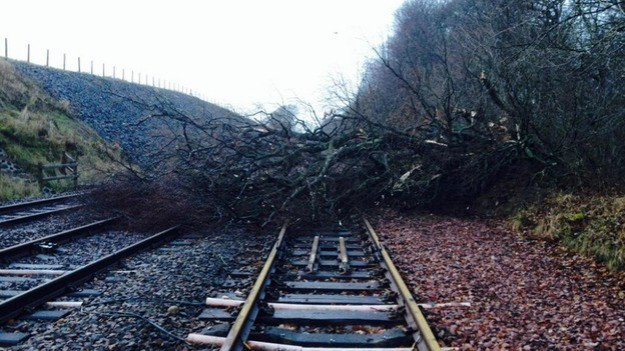 Glasgow Central station was also evacuated after debris smashed the glass on the roof of the main building. No one was injured during the incident and the station is expected to be closed until this afternoon.
At least 100,000 homes are also without power as a result of the winds.
A spokesperson for the Scottish and Southern Energy Power Distribution (SHEPD) said: "We expect to have the majority of supplies restored throughout the course of the day, however there may be customers in some areas who will remain without power into tomorrow depending on the nature and extent of the damage to the network."
In Northern Ireland, 6,500 customers are without power after strong winds caused disruption to power supplies.