All fracking operations in Scotland are to be suspended pending further enquiries, Energy Minister Fergus Ewing has announced.
There will be a moratorium on all unconventional oil and gas extraction - which includes fracking - until more information is obtained on both the environmental and health implications of the controversial technique.
Following the general election on 7 May the Scottish government will have full control over fracking. Until then all fracking applications are to be turned down on planning grounds.
"Given the importance of this work it would be inappropriate to allow any planning consents in the meantime," Ewing told Holyrood. "I am therefore announcing a moratorium for the granting of planning consents on all unconventional oil and gas extraction including fracking."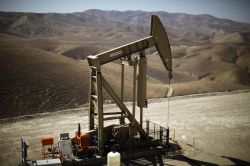 Ewing's announcement was hailed by environmentalists including Dr Richard Dixon, Director of Friends of the Earth Scotland, who said: "Fergus Ewing's announcement today is huge victory for the communities, individuals and groups who have been campaigning to stop this dirty industry in Scotland.
"This moratorium is a very big nail in the coffin for the unconventional gas and fracking industry in Scotland. Any serious examination of the mounting evidence will inevitably lead to a ban.
"The Scottish Government has acted decisively today to protect communities across the country and the environment from this unnecessary industry."
However the reaction from energy companies looks likely to be less enthusiastic. Tom Crotty, director of Ineos, which operates Grangemouth refinery, said on Monday: "We need shale gas to meet those climate change targets. We've learnt from the US this is now a safe process. We're heading for a cliff edge in energy supply. If we keep postponing these decisions we'll fall off."
Earlier this week the UK government survived an attempt in Westminster to impose a national moratorium, but caved in to demands not to allow fracking in national parks, areas of outstanding national beauty and areas of drinking water collection.
Environmentalists claim fracking increases carbon emissions and is potentially dangerous, with many claiming it can lead to earthquakes and that the carcinogenic chemicals used in the process can contaminate groundwater.