Scottish election 2016: SNP targets nationalist youth vote with 'manifesto for the next generation'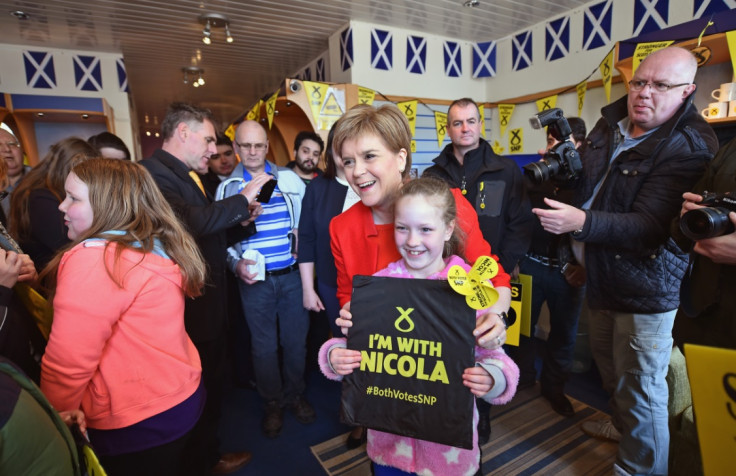 Young Scottish voters were very much on Nicola Sturgeon's mind as she launched the SNP's manifesto for the Holyrood elections, with just weeks to go before the 5 May ballot. The First Minister of Scotland promised to "open the doors of opportunity to all our young people" by committing to doubling free childcare, reforming education and increasing access to universities north of the border.
"Our promise in this election is not simply to maintain our record – it is to build on it. It is not business as usual. It is transformation," Sturgeon told her Edinburgh audience.
"Through our support for our youngest children, by investing in and transforming education, by supporting the innovators and entrepreneurs who will build the economy of the future, an SNP government will back opportunity at every level."
The SNP leader, who drew on her experience at the University of Glasgow, added: "The aim that I am setting out in this manifesto is one I am passionate about – we will ensure that a child born today in one of our most deprived communities will by the time they leave school, have the same chance of getting to university as a child of the same ability from one of the most well-off parts of our country.
"That is a fundamental part of what I mean by a fair and equal society. Let me promise you this. The daily focus of a re-elected SNP government, led by me, will be to transform the lives of our youngest children, close the educational attainment gap and open the doors of opportunity to all of our young people."
The so-called "manifesto for the next generation" also included a commitment to spend an extra £500 million ($718m) on the NHS in Scotland. "This pledge of above-inflation investment is a clear sign of our commitment to our most cherished public service," Sturgeon said.
Sturgeon, who succeed Alex Salmond as SNP leader in 2014, is expected to be re-elected as First Minister after the 5 May vote. The nationalists are 32 points ahead of Scottish Labour, according to the most recent opinion poll from BMG Research.
The survey, of more than 1,000 people between 11 and 15 April, put the SNP on 53%, Scottish Labour on 21% and the Scottish Conservatives on 16%.
© Copyright IBTimes 2023. All rights reserved.