Around 17% of adults - or 700,000 people - would consider leaving Scotland in the event of independence, according to a Panelbase survey.
The poll of 1,041 people, conducted for The Sunday Times and Heart radio station, revealed that hundreds of thousands of Scots would debate emigrating, if voters chose to break the union with England.
In comparison, around 200,000 voters - about 5% - said they would consider leaving Scotland if voters chose to stay tied to the rest of the UK.
Around 73% of respondents said they have no plans to move, regardless of the outcome of the vote.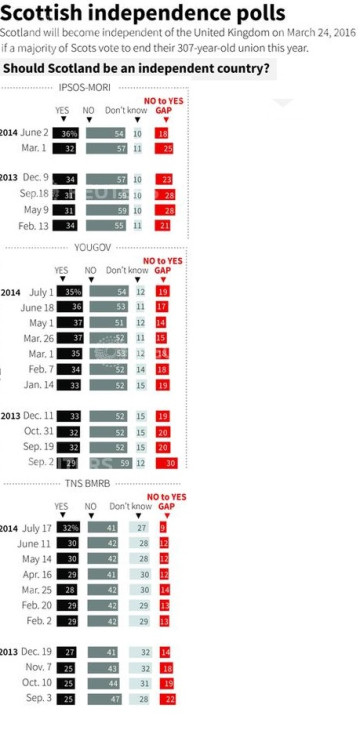 "This poll is a blow to [Scottish National Party (SNP)] Alex Salmond's faltering campaign and makes clear that the momentum is with those of us saying no thanks to separation," said Better Together campaign director Blair McDougall.
"The closer we get to the referendum the more people are thinking seriously about the consequences of independence for the pound, pensions and our public services.
"The majority of Scots looking at Salmond's failure to provide honest and credible answers are simply saying no thanks to taking on so many risks. We can have the best of both worlds for Scotland - a strong Scottish Parliament, with more powers for Scotland guaranteed, backed up by the strength, security and stability of being part of the larger UK. Only separation puts that at risk."
Scottish people will vote in an independence referendum on 18 September this year and will be asked the straight "yes/no" question: "Should Scotland be an independent country?"
The referendum period started on 30 May.
Recent polls have shown that the gap between a 'Yes' and a 'No' vote is closing but is still in favour of staying together as part of a union.
"Support for Yes is solid and as we move into the final eight weeks of the campaign we will be working hard to continue the flow of undecided voters to our side," said Yes Scotland chief executive Blair Jenkins.
"What this poll confirms is that, in spite of a renewed barrage of scaremongering and relentless negativity from the No camp and Westminster government, we are in touching distance of success on September 18. We need just over a four-point swing to put us in front.
"The greater strength of our huge grassroots campaign is of crucial importance. In a million conversations around the country, people are seeing a Yes vote as a unique opportunity to create a better Scotland.
"With independence we can make decisions that match our own needs, priorities and aspirations."