Scottish Independence: ICM Poll Puts 'Yes' and 'No' Campaigns Neck and Neck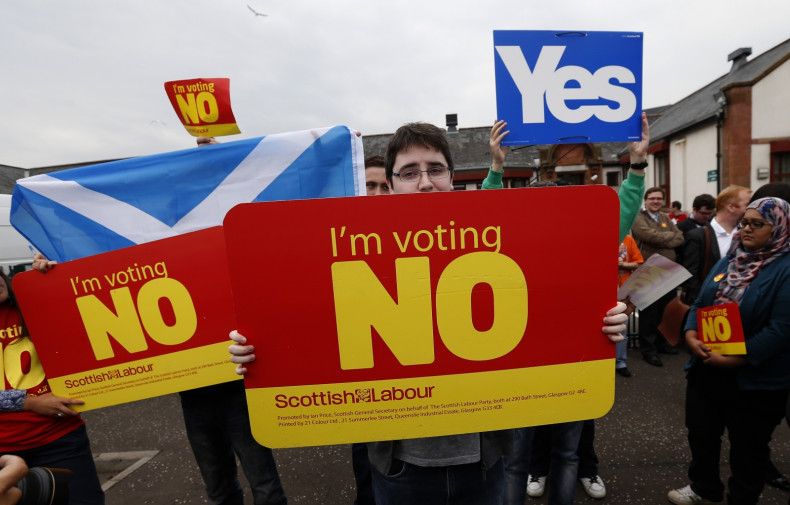 With less than a week to go, the vote on whether Scotland will become an independent country is still neck and neck, according to the latest figures.
An ICM poll for the Guardian places Better Together's 'No' campaign narrowly in the lead at 51%, with Alex Salmond's 'Yes' campaign behind on 49%, once the undecided votes are excluded.
Despite an increase in media coverage and political campaigning from both sides, as well as Westminster politicians, 17% of those asked said they are still undecided how to vote in the upcoming referendum.
The poll also said that 87% of those who were asked said they were "absolutely certain to vote" on 18 September compared to just 55% who said the same thing about next year's general election in a separate ICM/Guardian poll.
Around 97% of potential voters in Scotland have registered to take part in the referendum.
The survey was based on telephone interviews of 1,000 people, conducted between 9 and 11 September. Earlier, a YouGov poll gave the 'No' campaign a bigger lead of 52% against 48%.
While appearing to be neck and neck, the polls suggest the 'Yes' campaign is starting to regain ground after a Survation Poll released on 10 September put the Better Together campaign at a 53% - 47% lead.
The 'Yes' campaign were briefly in the lead for the first time after a 7 September survey of 1,084 people said 51% were planning on voting for Scottish independence.