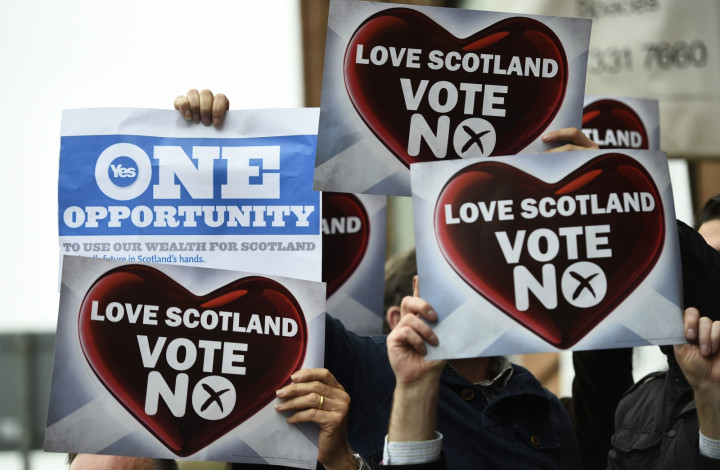 The Scottish independence referendum battle is neck and neck as polling day looms, according to a survey from Panelbase.
The poll, which questioned 1,004 people between 15 and 17 September, found 52% of respondents said they intend to vote "No" and 48% of people said they would vote "Yes" at the referendum on 18 September.
The research also revealed the majority of young people (16 to 34-year-olds) and 35 to 54-year-olds intend to vote "Yes" at the polls (53% "Yes" vs 47% "No" and 55% "Yes" vs 45% "No", respectively).
However, "No" voters outnumbered "Yes" voters when it came to the 55+ age group (38% "Yes" vs 62% "No").
The poll found the majority of female respondents intend to vote "No" but most men will vote "Yes" (42% "Yes" vs 58% "No" and 54% "Yes" vs 46% "No", respectively).
The figures come after former Labour Prime Minister Gordon Brown made an impassioned plea for the people of Scotland to vote "No" and warned about the "risks" of an independent Scotland.
"Let us tell those people who have still got doubts and are wavering, people who were thinking of voting yes yesterday but could be persuaded today – let us tell them about the real risks," the MP for Kirkcaldy and Cowdenbeath said.
"This is not the fear of the unknown, this is now the risks of the known.
"An economic minefield where problems could implode at any time, an economic trapdoor down which we go from which we might never escape."
But Scotland's First Minister Alex Salmond slammed the "No" campaign's "scare stories".
"I have no doubt people in Scotland will look past the increasingly desperate and absurd scare stories being generated daily from Downing Street," he said.
"So in these last days of the greatest campaign Scotland has ever seen, I want to ask you to take a step back from the arguments of politicians and the blizzard of statistics.
"For every expert on one side, there is an expert on the other.
"For every scare tactic, there is a message of hope, opportunity and possibility.
"The opportunity for our parliament to gain real job creating powers, the ability to protect our treasured National Health Service and the building of a renewed relationship of respect and equality with our friends and neighbours in the rest of these islands."
Almost all (97%) of the adult population in Scotland have registered to vote in the referendum.